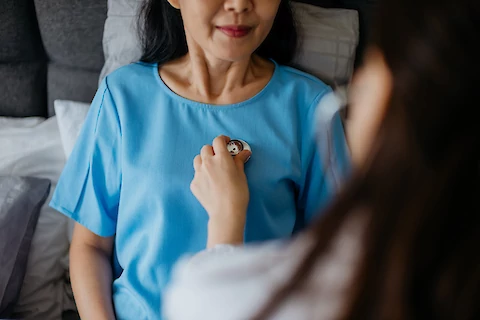 Caring for a senior loved one is a labor of love. It does require time, energy, and compassion to provide quality care and ensure that your senior family member has everything they need. While caring for a senior loved one, you can learn more about heart health and ways you can also maintain your own. 
What Is Heart Health?
Heart health is all about promoting a healthy lifestyle to reduce the risk of heart attack or stroke. Senior and caregiver heart health require the same. The American Heart Association (AHA) emphasizes five important steps that everyone should take:
Not smoking
Exercising regularly
Making smart dietary choices
Maintaining a healthy weight
Avoiding excessive alcohol use 
You can incorporate these steps into the daily routine of both you and your senior loved one.
Things You Can Learn About Heart Health While Caring for a Senior Loved One
By taking care of a senior loved one, you can draw upon what they see and learn about their own heart health. Here's a look at some of those things:
Genetic Causes and Other Risk Factors
Genetic factors can play a major role in heart health. With age, the risk of heart disease increases. Some of it may be attributed to family history. Knowing this backstory can help you gain insight into the likelihood of you developing certain kinds of heart disease. This helps you understand the importance of taking preventive steps or seeking early intervention. 
Lifestyle Changes for Proper Heart Health
These are some of the most important steps in taking care of your heart health. Regular exercise and smart diet choices can help reduce risks associated with heart disease. You want to avoid smoking or excessive alcohol use because these increase risks significantly. 
Regular Doctor Appointments and Testing
Regular doctor appointments and testing matter in maintaining senior and caregiver heart health. These are crucial for staying on top of the chances of developing heart disease. Regular checkups can mean a quicker diagnosis, enabling medical professionals to counter or reduce any risks associated with further complications. It also helps you begin any necessary treatments sooner.
Seek Intervention When Heart Issues Begin
Sometimes, even with regular doctor visits and staying on top of your health, heart issues can arise. You need to seek the help of a medical professional as soon as you realize that you might have a heart health issue. 
Senior Helpers North-Central OC Cares for Your Senior Loved One
While caring for a senior loved one, you might discover more about your own heart health in Yorba Linda, Fullerton, Anaheim, Anaheim Hills, Brea, Placentia, and La Habra. As you apply practical methods of looking after the heart health of your senior parent, you find ways to manage your own. You can apply this knowledge to your everyday life and ensure your own well-being. From meal prep to transportation to medical appointments, Senior Helpers North-Central OC can help your senior loved one manage any heart condition they might have along with medication reminders. Contact us today to learn more about the services we offer!