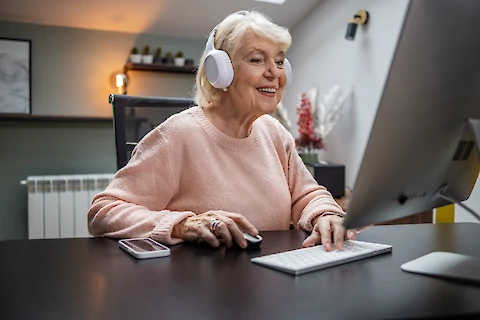 Arthritis, a condition that affects many seniors, can significantly impact their everyday activities, particularly those that require fine motor skills. It can cause challenges in performing tasks that were once simple and straightforward, including writing, online learning, and even desk organization.
Still, it's important to find ways to make these activities easier and more accessible. Senior Helpers North-Central OC will explore a range of school and hobby supplies that have been specially designed for seniors with arthritis, focusing on innovative, practical solutions and ergonomic designs to overcome mobility difficulties.
Writing Supplies
Arthritis can turn the simple act of gripping a pen or pencil into a challenging task. Although writing might seem strenuous due to joint pains, fortunately, there are several arthritis-friendly tools available.
Consider pen grips that are designed to fit pens and pencils securely. They usually have larger diameters and soft grips, reducing the pressure exerted on the fingers and providing comfort while writing. Ergonomic pens and pencils, designed with larger, easier-to-grip bodies are also a fantastic option. Some even come with built-in vibration features to stimulate hand muscles, reducing discomfort or pain while writing. 
Online Learning Tools
In this digital age, learning has extended beyond the physical classroom and into the online space. For seniors with arthritis, adapting to these technological changes can be daunting, but there are plenty of tools designed to make this journey more manageable. Speech-to-text software can be beneficial for those who find typing straining. 
These applications can transcribe spoken words into written text, greatly reducing the need for keyboard use. Another tool is ZoomText, a software program that enhances screen visibility, making it easier for seniors to navigate websites, read, and participate in online classes.
Desk Tools and Supplies
Having an ergonomic desk setup can be very helpful for those with arthritis. An adjustable desk and chair can help keep the body in a neutral position, reducing strain on the joints. A desk that can be adjusted to different heights can help seniors find the most comfortable position to work in. Similarly, a chair with adjustable height and good back support can help maintain good posture and reduce strain on the neck and back.
Keyboard and mouse supports are other helpful tools. They provide a cushioned rest for the wrists, reducing strain on the wrist joints while typing or using the mouse. Some even offer features like a heated pad to provide comfort to aching joints.
Senior Helpers Supports Seniors' Arthritis Journeys
Navigating the world of hobbies and continuous learning can be a challenge for seniors dealing with arthritis, but it certainly isn't impossible. With the right tools and aids, seniors can continue to pursue their interests and embrace lifelong learning in comfort and with ease. 
If you or your loved ones are living with arthritis in Yorba Linda, Anaheim Hills, Brea, Placentia, or La Habra and need more information or assistance in finding these supplies, contact us at Senior Helpers North-Central OC. We're here to ensure you have the support you need to continue enjoying your hobbies and learning new things, arthritis notwithstanding.