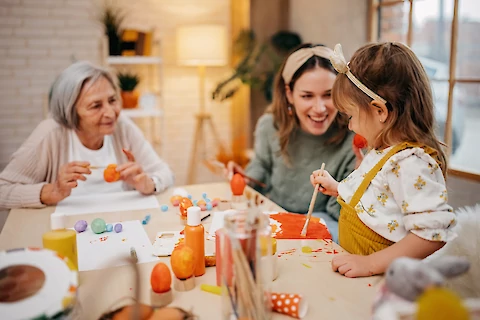 Engaging seniors in interactive activities with their grandchildren can offer many benefits, from sparking creativity to strengthening familial bonds and even improving cognitive function. Building these connections and memories is priceless, especially during the autumn season. 
Senior Helpers North-Central OC will share simple yet enjoyable fall craft ideas that are ideal for both grandparents and grandchildren. These crafts not only promise fun times but also promote learning and bonding.
The Benefits of Crafting Together
Crafting together can be a fantastic way for seniors and grandkids to express their creativity. This creative expression can serve as a mental workout for seniors, stimulating their brains, and helping to keep their minds sharp. 
Moreover, the act of crafting together can foster an essential bond between grandparents and grandchildren. As young and old hands work together to bring their creations to life, memories are made, and connections are strengthened. It's a beautiful way of expression, communication, and shared experience that enhances the emotional well-being of seniors and influences the social development of kids.
Fun Fall Craft Ideas
When we think of a leaf collage, the idea might seem simple, but it's an excellent way for children and seniors to explore texture, color, and the changes the fall season brings. Start by collecting colorful fallen leaves during a walk, then arrange them on paper or cardboard in a creative fashion and glue them down.
Creating a pinecone bird feeder is another fall favorite. Collect pinecones, cover them in peanut butter (a safe glue alternative), and then roll them in birdseed. Hang your feeders up and watch as they attract feathered friends to your yard. This simple activity encourages interaction with nature and can provide ongoing entertainment as birds visit.
Making a fall wreath is a more involved but rewarding project. Using a wreath base from a craft store, you can decorate it with fall leaves, acorns, miniature pumpkins, and other autumnal elements. It's a delightful way to bring the colors of fall indoors.
Pumpkin painting is a safer and equally fun alternative to carving. This allows for a wide range of creativity. You could paint funny faces, beautiful patterns, or even a grandchild's handprint on the pumpkins.
Tips for a Successful Crafting Session
When preparing for your craft session, make sure your crafting area is safe and comfortable. Have all the materials ready, and ensure the crafts you choose are age-appropriate—not too challenging for kids or too simplistic for seniors. Most importantly, remember the goal is to have fun and create memories, not necessarily to produce perfect artwork.
Senior Helpers Provides Custom Senior Care Services
Crafting together is about more than just creating; it's about bonding, sharing experiences, and building lasting memories. So why not embrace this fall season and dive into these craft ideas with your senior loved ones and their grandkids? 
If you are seeking additional resources or professional help for your senior loved ones in Yorba Linda, Fullerton, Anaheim, Placentia, and La Habra, contact us at Senior Helpers North-Central OC. We are here to ensure your loved ones get the care and companionship they deserve.