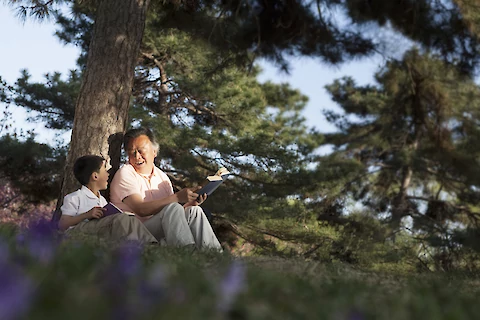 As we approach National Book Lovers Day, it's time to remember the joy of immersing oneself in a gripping narrative or a fascinating non-fiction novel. It's not only a pleasure but also an important cognitive exercise that everyone, including our seniors, can and should indulge in. This particular day presents an incredible opportunity for caregivers to bond with their seniors over the love of literature.
Whether your senior loved one was an avid bookworm in their day or needs a gentle push to rekindle their passion for reading, there are many ways to celebrate this special day. We'll offer a selection of creative activities fostering a shared love for books while highlighting the cognitive benefits and the potential for deepening caregiver-senior connections. From reading aloud to reminiscing over their favorite authors, let's explore together how to make National Book Lovers Day memorable.
The Importance of Reading for Seniors
Reading does more than entertain us. It boosts brain health, aids sleep, and reduces stress. It sharpens the mind, enhances memory, and improves emotional intelligence. Further, sharing a book with a senior loved one opens up channels of communication, encouraging them to share their thoughts, memories, and insights. In this process, caregivers can build stronger emotional bonds with seniors.
Celebrating National Book Lovers Day With Seniors
Reading Aloud
Reading aloud is an excellent way to engage seniors. Choose a book that resonates with their interests, perhaps a historical biography or a lighthearted novel. Ensure the reading space is comfortable and cozy with cushions or a warm throw, along with ample light. Reading aloud allows seniors to enjoy a good story and stimulates their auditory senses, improving their listening skills and concentration.
Reminiscing Over Beloved Novels
Another excellent way to celebrate is by chatting about favorite books from their past. Conversations about beloved characters or thrilling plot twists can trigger fond memories, encouraging seniors to share stories from their own lives. This nostalgic journey can give caregivers a deeper understanding of their seniors, fostering a more significant connection.
Visiting Libraries
If circumstances permit, a trip to the library could be a delightful outing. Libraries in the Anaheim area are rich with literary treasures. Take time walking through the aisles, picking up books, and reading their back covers. Make the day memorable with a nice lunch or a leisurely walk in the park afterward.
Selecting Audiobooks
Visual impairment should not be a barrier to enjoying literature. Audiobooks are an excellent alternative, transporting listeners to different worlds with voiced narratives. This option engages and stimulates the imagination while reducing strain on the eyes. There are numerous resources for downloading or streaming audiobooks online from which you can select an audiobook that matches their interest.
We Can Help You Celebrate National Book Lovers Day
National Book Lovers Day is more than an occasion to celebrate literary works. It's a perfect opportunity to strengthen bonds through shared experiences and create lasting memories. Whether reading aloud, reminiscing over favorite novels, visiting a library, or selecting an audiobook, there are myriad ways to honor the day and share the joy of reading with your senior loved ones. Embrace literature's beauty and enjoy its cognitive and emotional benefits.
If you're seeking additional support in Yorba Linda or La Habra, Senior Helpers North-Central OC is here to help. We provide quality and compassionate caregiving services tailored to your senior loved ones' unique needs. Contact us today to learn more about our services.