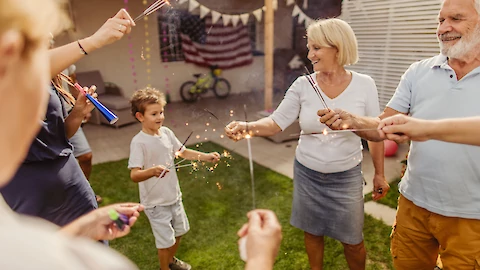 As Independence Day draws near, many families are eagerly anticipating time-honored traditions of firework displays, festive music, and quality time with loved ones. If you are a family caretaker of a senior relative in Yorba Linda, Placentia, or La Habra, you'll want to ensure senior loved ones can also join in the festivities while ensuring their comfort and well-being.
Senior Helpers North-Central OC can equip you with creative ideas and practical tips to safely and joyfully celebrate this special holiday together.
Understanding the Needs of Seniors During Independence Day
As we prepare for Independence Day celebrations, consider the specific needs and comfort of our senior loved ones. Age-related concerns such as mobility limitations and sensory sensitivities can sometimes pose challenges during high-energy celebrations. 
For example, the loud noises from fireworks could be overstimulating for some while the crowds might be overwhelming for others. By keeping these considerations in mind, we can ensure that the festivities are enjoyable for everyone, including our elderly relatives. Always ask your senior loved one what they are comfortable with before making plans on their behalf.
Tips for Safe Independence Day Celebrations
When it comes to watching fireworks displays, comfort is key for seniors. Consider finding a quiet and comfortable spot a bit further from the action where your senior loved one can still enjoy the view but not have to deal with loud noises and large crowds. Bringing along a cozy blanket or chair would also add to their comfort. 
Sharing past Independence Day memories is another enriching activity that could connect different generations in the family. Encourage your senior loved ones to share stories from their past celebrations. It's a wonderful opportunity to learn more about their lives and experiences and make them feel more valued and involved in the festivities. 
Creating patriotic-inspired crafts can be a fun and inclusive activity. Focus on easy and enjoyable crafts that they can participate in. Maybe you can all work together on a patriotic wreath for the front door or color American flags. The goal should not be perfection but the fun and camaraderie of doing something together.
Fostering a Sense of Belonging and Joy for Seniors
Including our senior relatives actively in the festivities fosters a sense of belonging and joy for them. Simple acts like asking them to lead the singing of the national anthem or give a toast during the BBQ can make them feel they're an integral part of the celebration. The idea is to create an environment where they feel appreciated, loved, and cherished as important family members.
Senior Helpers Offers Premium Senior Care Services
Celebrating Independence Day with our senior loved ones can be a memorable and joyful experience. All it takes is some understanding, creativity, and a heart full of love. Remember, your friends at Senior Helpers North-Central OC are always ready to support you and share more tips on how to make your loved ones feel comfortable and cherished. If you're looking for senior care services and assistance, contact us today. Let's make this Independence Day a special one!