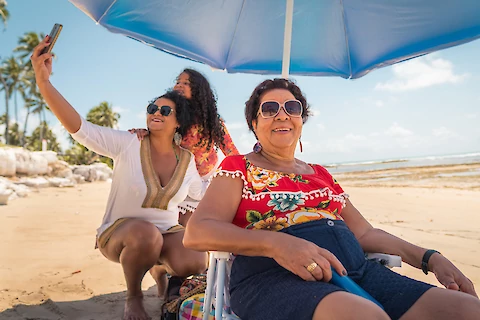 Spending quality time with family is important for people of all ages, but it becomes even more meaningful for seniors as they cherish the moments spent with their loved ones. Planning fun and accessible family outings that include older adults can sometimes be a challenge, especially when considering their varying levels of mobility and energy. 
Fear not! Senior Helpers North-Central OC is here to help you plan engaging and inclusive activities that are enjoyable for the whole family! By considering the needs and preferences of your senior relatives, you can create memorable experiences that bring joy to everyone involved.
Tips for Planning Accessible Outings
To ensure a successful family outing with seniors, start by assessing their mobility and energy levels. This will give you a better understanding of their capabilities and help you create an outing that accommodates their needs. Talk with them about their preferences, interests, and any potential limitations they might have.
Once you have a clear understanding of the senior's needs, focus on selecting appropriate destinations or events. Keep in mind that accessibility is crucial so that everyone can have a good time without feeling overwhelmed or excluded. Research the locations beforehand, and make sure there are necessary accommodations for your senior loved one, such as accessible restrooms, ramps, or elevators.
Communication is key when planning family outings. Include the senior in the decision-making process, asking for their input and making sure they feel valued and heard. This can make the experience even more rewarding for them and the entire family.
Outdoor Activities
A picnic in a local park can be a simple and delightful way to spend a day with your family. Choose a park with paved walkways, accessible restrooms, and shaded areas. Bring comfortable seating, such as folding chairs or blankets, to ensure everyone can relax and enjoy the day.
Nature walks on accessible trails provide a great opportunity for seniors to connect with nature while spending time with family. Research trails in your area, and select one that fits your senior loved one's mobility level and interests.
Outdoor concerts or movies are another great option as they often have designated areas for wheelchair users or those with mobility aids. Make sure to bring comfortable seating and extra layers for warmth once the sun goes down.
Cultural Experiences
Museums and art galleries are fantastic outings for seniors who enjoy history or art. Look for locations that offer wheelchair accessibility, seating opportunities, and guided tours that cater to seniors' pace and interests.
Theater performances can be a source of joy for seniors and their families. Look for theaters that provide assisted listening devices and accessible seating options so that everyone can enjoy the show.
Dining Experiences
When choosing restaurants for family outings, consider those with senior-friendly menus and accessible seating. Check if there are ramps, elevators, or comfortable chairs that can accommodate seniors with mobility aids.
Food festivals or farmers markets offer a chance to explore diverse food options and support local businesses. Ensure that the event has accessible paths and seating for seniors to rest and enjoy the atmosphere.
Making the Experience Enjoyable for Everyone
Plan outings with breaks or rest periods to accommodate seniors who may need some time to recharge. Ensure transportation options are accessible, and bring items for comfort such as folding chairs, blankets, or sunscreen. Encourage all family members to be patient and understanding of the senior's needs, making certain they feel included and valued throughout the outing.
Contact Senior Helpers for Help With Senior Care
With a little planning and consideration, you can create fun and accessible outings that accommodate the needs and preferences of your senior loved ones. By following these tips and ideas, you'll be well on your way to creating memorable experiences for the entire family. 
If you need help planning outings or providing care for seniors in Yorba Linda, Fullerton, Anaheim, Anaheim Hills, and La Habra, contact Senior Helpers North-Central OC for compassionate and professional support.