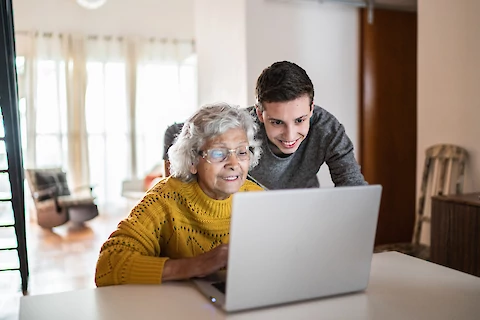 Protect Seniors Against Cyber Security Threats This Year
Individuals over 65 find themselves targeted by scams and other fraudulent activities more than younger adults. Seniors may seem more vulnerable and lack familiarity with the latest technological advancements. Technology plays a big part in modern-day cyber security threats. However, the Federal Communication Commission also reports significant mail and phone scams that cheated seniors out of thousands of dollars last year. In fact, there were over 1,000 cases of mail fraud reported by seniors, with an average loss of $1800.00. Phone scams also affected over 16,000 senior citizens, with $1500 as the median loss.
Mail and phone fraud criminals began preying on seniors decades ago. However, with today's technological advances, many more venues exist to target susceptible individuals.
At Senior Helpers of Montclair, we want seniors to have the information that will help protect them against cyber security threats.
Types of Fraud and Scams to Watch for in 2023
Some types of scams that seniors and others need to watch out for in modern times include:
Robo-call scams intimidate seniors by convincing them they owe entities such as the IRS money. The IRS and all other government agencies never call citizens trying to collect a debt.
Online shopping scams lure buyers into unbelievable deals and deliver nothing.
Romance scams use social media sites such as Facebook.
Sweepstakes as well as other financial scams often work by getting relatively low amounts of money from many people, and then some promise a large prize such as a luxury car.
Tech-support scams prey on people with new devices and appliances, pretending to offer support.
Scams using text messages claim they are well-known companies as they try to lure personal and financial information from the customer.
Protecting Seniors from Cyber Security Threats
Successfully avoiding fraud these days requires both awareness and action. As seniors keep track of their email, financial, and social media accounts, there are things they need to keep in mind. Some precautions will also help prevent scammers from emptying their bank accounts.
Things to Know
Legitimate companies will never ask people to give out passwords or PINs.
Many email scams include unprofessional fonts and many mistakes. But sophisticated scammers will copy the exact font and formatting of legitimate companies causing many to provide information that leads to theft.
Most large companies and organizations have departments set up to fight fraud.
Internet surfing and time spent on social media may make seniors more vulnerable to scammers. Seniors need to avoid quizzes and games that ask for personal information.
Ways Seniors Can Protect Themselves from Fraud and Scams
Change passwords frequently, and don't use the same password on multiple accounts. Make sure the password or PIN isn't something a scammer could easily guess or find out.
Check security settings on smartphones and other devices. If seniors are unfamiliar with how to keep their smartphones up to date, they can get help from tech-savvy relatives or visit a trained technician.
Report suspicious activity through the company's website or the phone application.
Additionally, make sure to do business through an app or website. Don't respond to an email directly.
Set up extra security verifications. For example, if seniors sign in to an account on an unknown device, they will receive a prompt to approve it with a code sent via text or email.
Take care when using cards. Don't give a card number out on automated phone services in public. Also, when in public, seniors must handle their cards in a way that the numbers are not readily visible. Scammers often lurk with cameras and recording devices. If seniors have to pay with a credit card in a restaurant, ask the server to bring the machine to them and process the transaction at the table.
Invest in reputable cyber security software. AARP also recommends and offers its members a significant discount on Norton 360.
We Can Help
If you need assistance with cyber security for you or a senior loved one, we would love to help. Senior Helpers of Montclair serves residents of Fontana, Pomona, Ontario, Rancho Cucamonga, Montclair, and San Bernardino County. We offer premier in-home senior care services to help seniors with their daily activities. Contact us to see how we can make a positive difference in a senior's life.