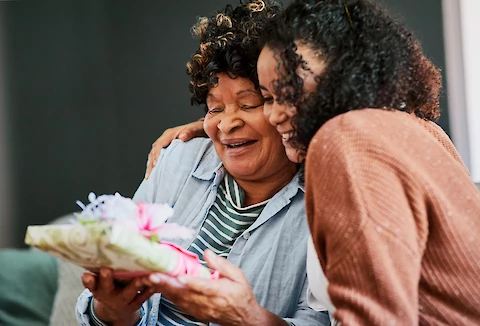 5 Helpful Gift "Don'ts" for Buying Gifts for Seniors with Dementia
Many families who have senior loved ones living with dementia can accidentally buy patronizing or otherwise upsetting gifts for them. Here's our guide to shopping this holiday season and what to avoid when buying gifts for seniors with dementia.
1. Toys Intended for Children
There are many toys on the market that can help seniors with dementia with their recall. However, some may not be appropriate for seniors. When looking for puzzles, word searches, or games, make sure to buy ones designed for older adults and avoid the ones marketed to Pre-K students. For seniors who have done puzzles their entire lives, avoid the sort of gadgets designed for small children and adolescents. Look for ones online specifically geared to seniors.
It's often possible to find puzzles and gizmos with labels on them that say they are for adults rather than children, so avoid buying the ones that specifically demarcate them as a child's toy. A senior may see that and feel a sense of loss and sadness rather than joy at receiving a gift.
2. Planners, Calendars, and Lists
Many people recommend buying seniors a pen, paper, or phone to help them make lists and improve their memory. Writing down things to do and making lists is very useful to those with dementia. However, it's not exactly the most fun gift for a senior. When buying for them, don't forget that it's still a holiday. People tend to gravitate towards fun presents rather than those that remind them of how they are changing. There's always time to pick up some organizational items for them when the holidays are over.
3. Personalized Medical IDs, Necklaces, or Cards
Some adult children feel a level of security in buying personalized gear that identifies their senior parent, provides their own or caregiver's contact information and lets people know their senior parent's condition. This may keep seniors safe and be necessary later. However, it's a wise idea to avoid doing this initially and presenting it to them as a seasonal item.
Exchanging gifts is typically done in public. Giving a senior a basic identity card in front of other family members and friends can be demeaning. If well-meaning adult children need to do this to protect their senior or fear they might one day become lost, they can give this type of present privately and buy them a real gift for the holidays.
4. Picture Books
There's a wide range of books to buy as gifts for seniors with dementia. However, a senior in the early stages of dementia may still be able to handle short stories. Luckily, several authors have penned books designed for seniors with dementia that provide more challenging sentence structures that are a much better fit for them.
5. Weighted Blankets and Assistive Devices
Weighted blankets, assistive technology devices, and other gifts that cater to seniors with mobility and cognitive issues are extremely helpful. However, family members may want to avoid giving them as gifts for seniors with dementia during the holidays. When it's the holiday season, try buying the seniors very straightforward, happy items that complement their interests and things that they normally receive. We recommend buying items related to their care after the holiday to show them their adult children care about their well-being throughout the whole year.
How Senior Helpers Montclair Can Help
Senior Helpers Montclair is here to provide specialized care for seniors living in Fontana, Pomona, Ontario, Rancho Cucamonga, Montclair, and San Bernardino County areas. Contact us to speak to our experts about our in-home care services for seniors living with dementia, Alzheimer's, Parkinson's, and other conditions.