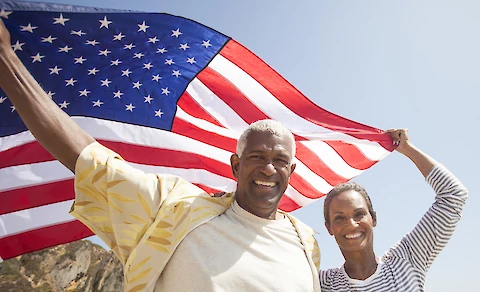 As the 4th of July approaches, it's time to start planning our celebrations. For those of us lucky enough to spend this special day with a senior veteran, the holiday takes on an even deeper meaning. These brave individuals have a unique bond with Independence Day, having put their lives on the line for the freedoms we cherish. 
This blog post serves as your guide to celebrating July 4th with a senior veteran in a way that's fun, meaningful, and mindful of their unique experiences. Whether you're planning a grand family get-together or a quiet, intimate gathering, let's ensure it's a day they'll treasure. 
Respect Their Feelings
Understanding the unique needs and preferences of our senior veterans is key to offering them a memorable experience. Many of these heroes often hold a deep and personal connection to the occasion. The sights, sounds and overall celebratory mood can stir up an array of emotions. Celebrating Independence Day while being sensitive to their possible wartime experiences and memories is crucial.
Plan Patriotic, Family-Oriented Activities
This year, consider organizing activities that everyone in the family can enjoy. A backyard picnic could be a low-stress and comfortable way for your senior veteran to engage. Traditional activities like watching parades, flag-raising ceremonies, or fireworks can be thrilling for the younger ones, and nostalgic for our older heroes. Always check in with your veteran family member before making plans, as loud noises or large crowds could be overwhelming.
Seek Out Veterans' Organization Events
If you are limited in your ability to take the lead in event planning, find out of your local veterans' organization is hosting an event. Here are some places to check out:
Encourage Storytelling
One of the most meaningful ways to pay tribute to your veteran loved one on July 4th is by memorializing their stories and memories. Setting aside some quiet time to listen to their tales of bravery and resilience can be highly therapeutic for them and enlightening for the family. This could be done informally over a meal, or you could record or write down their stories as a historical family keepsake. Sharing memories is a beautiful bridge between generations. Just be sure to navigate this process with sensitivity, as reminiscing about their service days could trigger deep-seated emotions.
Celebrate With Senior Helpers
Celebrating July 4th with a senior veteran is indeed a special occasion. It's a day to show our appreciation, respect, and love toward these real-life heroes who have so valiantly served our country. Let's strive to make this Independence Day as enjoyable and meaningful for them as possible. 
Are you based in Fontana, Pomona, Ontario, or Rancho Cucamonga and need a helping hand with caring for your senior veteran? Our team at Senior Helpers Montclair is here to assist. We provide professional support and companionship to seniors, making their days brighter and your life easier. Contact us today, because nobody deserves more respect and care than our beloved veterans.