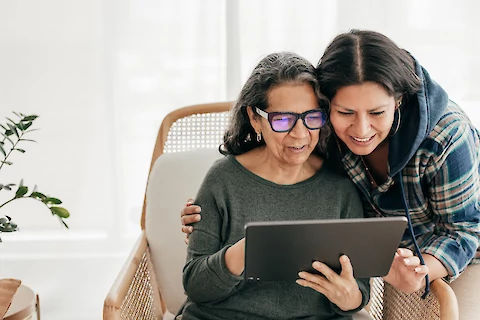 Staying connected with family and friends is essential for the well-being of our senior loved ones, and technology plays a significant role in bridging the gap between generations. As adult children, we must help our senior parents embrace the digital world, empowering them to maintain strong relationships and stay engaged with their interests. Here are some tips to help your senior parent stay connected through the wonders of technology!
Find the Right Device
Choosing the right device for your senior parent is a crucial first step in helping them stay connected through technology. Tablets are an excellent option because they offer a user-friendly interface and are portable, making them easy to use at home or on the go. On the other hand, smartphones combine communication and entertainment in a single device and provide access to a wide variety of apps and features. For seniors who prefer a larger screen or need more advanced functionalities, computers might be the best choice. 
Get Them on Social Media
Once your senior parent has a suitable device, introduce them to the world of social media. Facebook is a great starting point, allowing them to connect with family and friends, share updates, and even join groups to participate in online communities based on their interests. Instagram offers a more visual experience, enabling seniors to share and view photos while exploring interests and hobbies through images. Twitter can help them stay updated with news and current events while engaging with others through short messages. Be patient and take the time to teach your senior parent the ins and outs of each platform.
Introduce Video Calling
Video calling applications are another excellent way for seniors to stay connected with loved ones, especially those far away. Teach your senior parent how to use Skype by setting up an account and demonstrating how to make and receive video calls. FaceTime is a convenient built-in app for those with Apple devices that connect them with fellow Apple users. Zoom is another popular option, allowing seniors to join and host meetings or participate in group video calls. Provide clear guidance so senior parent feels confident using these applications.
Show Them Entertainment and Education Apps
Entertainment and education apps can be both fun and beneficial for seniors. Brain training apps like Lumosity and Elevate stimulate cognitive function, while puzzle and word games such as Words With Friends and Sudoku provide mental exercise and enjoyment. Streaming services like Netflix and Hulu can help seniors discover new movies and TV shows to watch during their leisure time. Encourage your senior parent to explore different apps and find ones that cater to their interests and needs.
Keep Them Safe
Address privacy and online safety considerations. Assist them in creating strong passwords for their accounts and guide them through adjusting privacy settings on social media platforms to protect their personal information. Teach them to be cautious of scams and phishing attempts, and educate them about the importance of online safety.
We Support Seniors Connecting with Tech
Helping your senior parent stay connected through technology can significantly impact their well-being and happiness. As adult children, it's important to actively guide and support them in their digital journey. And if you're seeking professional care and assistance for your senior loved ones in Fontana, Pomona, Ontario, Rancho Cucamonga, Montclair, and San Bernardino County, consider contacting Senior Helpers Montclair. Our team is dedicated to providing the support your senior parent needs so they can stay connected, engaged, and enjoy life to the fullest.