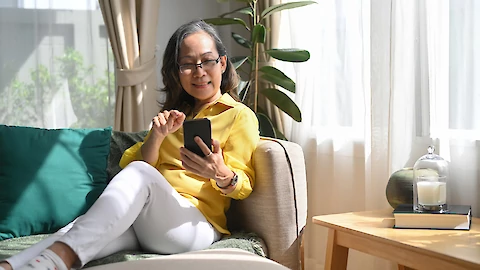 As seniors increasingly embrace smartphones to stay connected with family and friends, it's important to ensure that your privacy and security are protected. If you're concerned about apps having too much access to your contacts, location, and other information stored on your phone, this blog post is for you.
This blog will guide you on how to navigate app permissions, so your apps only have access to the information they really need. We'll also walk you through managing old apps and adjusting permissions if you change your mind about an app.
Understanding App Permissions
First, let's define what app permissions are. App permissions are essentially the level of access an app has to certain features or information on your device. When you download an app, it will ask for permission to access certain things, like your contacts or location, in order to function properly. 
While some permissions are necessary for an app to work, others might be requested for purposes such as targeted advertising. Therefore, it's crucial to be mindful of the permissions you grant to protect your privacy and personal data.
How to Check App Permissions
To check app permissions on your Android device, open your 'Settings' and scroll down until you find the 'Apps' or 'App settings' section. Tap on it, and you should see a list of installed apps. Tap on an app to view its permissions. 
For iOS devices, open the 'Settings' app, scroll down until you find the app you want to check and tap on it to view its permissions. Take note of the permissions each app has, and consider whether they are necessary for the app's functionality.
How to Control App Permissions
When installing a new app, carefully read the list of permissions it requests. Ask yourself if the app truly requires the level of access it's asking for. If permission seems unnecessary, you can choose to deny it. Keep in mind, though, that doing so may affect the app's functionality. 
If you've already installed an app and want to adjust its permissions, you can do so by following these steps:
For Android devices:
Open the 'Settings' app
Tap on 'Apps' or 'App settings'
Select the app you want to change permissions for
Tap on 'Permissions' and toggle on or off the permissions you want to grant or revoke
For iOS devices:
Open the 'Settings' app
Scroll down to the app you want to change permissions for, and tap on it
Adjust the permissions by toggling on or off the relevant options
If you find an app with permissions that seem too invasive or unnecessary, consider uninstalling the app completely. To uninstall an app on Android, press and hold the app icon, then drag it to the 'Uninstall' option that appears at the top of the screen. To uninstall an app on iOS, press and hold the app icon until it starts shaking, then tap the "X" that appears in the top-left corner of the icon.
Tips for Maintaining Privacy and Security
Here are some helpful tips to maintain your privacy and security while using smartphone apps:
Periodically review app permissions to ensure they remain appropriate and necessary.
Research apps before downloading them to make sure they come from reputable developers with positive reviews.
Only download apps from trusted sources, such as the Google Play Store or Apple App Store.
Keep your device updated with the latest security patches to protect against potential security threats.
Get Technology Support From Senior Helpers
Taking control of your app permissions is an essential step toward maintaining personal privacy and security as a senior smartphone user. By carefully managing permissions, researching apps before downloading, and keeping your device secure, you can enjoy the convenience of smartphone technology without compromising your personal information. 
If you live in Fontana, Pomona, Ontario, Rancho Cucamonga, Montclair, or San Bernardino County and need assistance with senior care, contact Senior Helpers Montclair. Our team is here to ensure your safety and well-being, both online and offline.