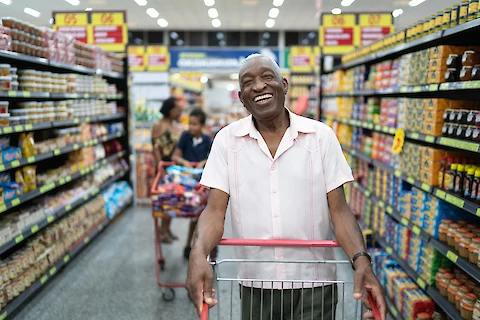 The costs of living add up quickly, especially for seniors who might be on a fixed income. Although some costs are both inevitable and fixed, like bills and taxes, there are many different senior discounts available to help reduce monthly expenses.
From groceries to entertainment and travel accommodations, this list highlights three types of unexpected senior discounts in 2023 that make a considerable difference when it comes to budgeting for seniors.
Senior Discounts on Groceries
Grocery shopping can be expensive. In fact, with costs going up, many seniors are looking for ways to cut their weekly grocery bills. Many grocery stores are now offering discounts specifically for seniors that make affordable shopping much easier to do.
For instance, Whole Foods Concord offers limited-time 10% discounts for customers over 65 years old every Wednesday. Sometimes the store offers other, deeper discounts for loyal senior customers, so check in frequently! In addition to discounted items, many supermarkets have implemented senior-only hours. This allows seniors a quieter environment when doing their grocery shopping. Make sure to check out clearance areas, which often have food that is perfectly fine to eat, but is placed on clearance due to dents or tears in the packaging.
Senior Discounts on Entertainment
Seniors have a lot of great options when it comes to entertainment in the Concord area as well. These can range from movie tickets all the way through museum admission. Seniors are able to take advantage of discounts at local theaters like AMC and Regal Cinemas both online and in-person. For seniors who prefer outdoor activities or exploring new locations, many local parks offer free entry for seniors throughout the year as well as discounted rates on golfing, fishing licenses, boat launches, campsites, etc.
Senior Discounts on Travel
Travel isn't just for the young. As more and more businesses are offering senior discounts, we can now find these savings in places like car rentals, hotels, cruises, and transportation services like Amtrak or Greyhound.
Seniors aged 50+ are eligible for complimentary travel insurance packages with their flight bookings when using certain airlines such as United or Southwest Airlines. Many bus and ferry companies have also implemented discounted rates specifically for seniors making city-hopping a viable option too!
Senior Helpers Can Help Seniors Live Fulfilled, Exciting Lives
Senior discounts come in all shapes and sizes. Seniors should stay aware of what kinds of savings are available for them throughout 2023. With an increase in discounts comes a possible decrease in monthly expenses making budgeting easier and cheaper for many.
We hope that these three surprising senior discounts can help you save money while enjoying the things you love. If you need help managing the chores and expenses of day-to-day life, Senior Helpers Concord can help. We offer personalized in-home care services to seniors in and around the Concord, Pleasant Hill, Benicia, Brentwood, and Martinez areas. Contact us today to learn more!