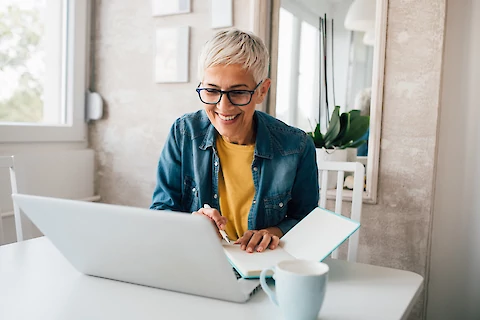 With the emergence of digital technologies, it's becoming increasingly easier for seniors to access dedicated online education opportunities. Online education opens possibilities and offers more learning experiences and enhanced life satisfaction.
In this blog post, we'll cover what online education opportunities are available for seniors and tips they should consider when searching for these programs.
What are the Benefits of Online Education for Seniors?
Online education offers a significant number of advantages for seniors:
Online courses provide flexible schedules appropriate to the individual's needs and preferences. Unlike on-campus programs, seniors can learn from their homes at any time that works for them, setting their own pace through the material.
Online learning can be very accessible due to its format, which eliminates physical constraints and transportation issues faced by seniors who may have physical or mobility difficulties or live in less urban areas with limited resources.
There is also often significant cost savings compared with traditional brick-and-mortar educational institutions since you can also avoid tuition costs and travel expenses.
What Types of Online Education Opportunities for Seniors are Available?
There is a variety of online courses, degree programs, and certificates that are available for seniors. Online courses are an excellent way for seniors to learn about new skills or explore different topics without committing to extended study periods, such as those associated with college degrees.
Moreover, there may be specific degree programs dedicated to providing educational opportunities tailored specifically toward the needs of older adults. They may also choose from traditional offerings by well-known universities. Finally, certifications in relevant fields are also available. These can boost credentials and increase employability options should seniors decide to reenter the workforce.
Where to Find Online Education Opportunities for Seniors
When searching for online education opportunities, seniors should consider multiple options regarding their interests and needs. Various resources are available that offer dedicated senior citizen programs or discounts. Research each option thoroughly before applying to any program since some may have additional requirements or time limitations.
Research Online Schools and Programs
Before deciding on a specific program, seniors should research all available online education options. Finding out more about the curriculum and faculty may help them assess if they feel comfortable with the courses/programs offered by the school. They can consider consulting educational review websites that provide in-depth reviews of various online graduate schools or explore accredited colleges and their degree programs.
Check for Financial Aid and Scholarships
Financing education can be a challenge. Most educational institutions offer financing programs and support. Seniors may find helpful financial aid and scholarship options to make learning more affordable. Some websites also provide apps that generate cost estimates based on each senior's profile, such as age, location, or desired fields of study.
Look for Special Programs for Senior Citizens
Senior citizens should research organizations and companies specifically dedicated to providing educational opportunities for their age group. These organizations can offer specialized courses, certificates, or even degree programs appropriate to individual needs (some even offer discounts).
Need Extra Help at Home While You Study?
Online educational opportunities present great potential for seniors seeking to learn new skills and boost their physical and mental well-being. Seniors in Fresno, Madera, Los Banos, Sanger, Selma, Reedley, and Atwater areas should consider exploring the available options to take advantage of these valuable resources.
If you or a senior loved one are considering online education programs, Senior Helpers of Central Valley North is here. We can help with meal prep, errands, and other at-home support services so you can focus on your educational goals. Contact us today to learn more about our in-home care services.