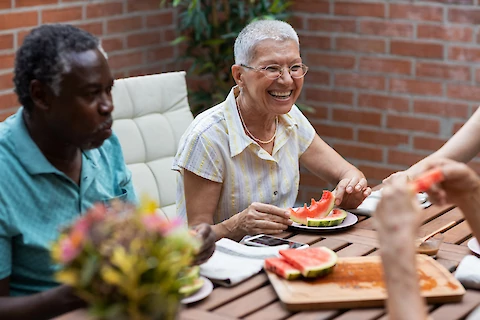 Not only do snacks provide a quick and convenient means of refueling during the day, but they also help to ward off feelings of hunger and maintain energy levels. The key, however, is to make healthy snack choices to get the most nutritional benefit. Here at Senior Helpers Central Valley North, we want to provide our community with all the resources they need to stay healthy and happy. That's why we've put together snacking tips for seniors. We'll cover snack ideas for diabetics, snacks that are gentle on teeth, heart-healthy snacks, the importance of portion control, and more.
1. Choose Snacks Good for Pre-Existing Conditions
Seniors with pre-existing conditions, like diabetes, must pay special attention to the food they consume, including snacks. Some great ideas for diabetics include fresh fruits and vegetables, nuts and seeds, Greek yogurt, and whole-grain crackers. These snacks are packed with vitamins, minerals, and other important nutrients that can help regulate blood sugar. Plus, they are low in carbs and calories, making them an ideal snack for diabetes management. 
2. Look Out For Sensitive Teeth
Many seniors suffer from dental problems due to age-related issues or poor oral hygiene. As a result, they may find that certain types of food are too hard or crunchy for them to chew. Some senior loved ones may also experience tooth sensitivity to hot or cold food. In either case, choose snacks that are gentle on teeth. Fortunately, there are plenty of options to choose from. Fresh fruit and vegetables, pureed or soft-cooked beans, and protein shakes are all great snacks that are easy to chew and digest.
3. Consider Seniors' Heart Health
Heart health is especially essential for seniors, as heart disease is one of the most common ailments among senior loved ones. Fortunately, there are lots of snacks you can enjoy that are both tasty and beneficial for your heart. Some great examples include oatmeal, whole wheat pita chips with hummus, edamame, and low-fat cheese. All of these snacks are high in fiber and contain healthy fats that can help reduce cholesterol levels.
4. Pay Attention to Portions
One of the most important snacking tips for seniors to remember is to always practice portion control. This means measuring out the right size portion for each snack and limiting yourself to just one serving. Measuring out the portion ahead of time can help ensure that you don't overindulge. Plus, it makes snack time easier because you won't have to worry about counting calories or over-eating.
5. Take the Time of Day into Consideration
Timing is vital when it comes to snacking. Eating at the right time can help stave off hunger and supply energy throughout the day. Some great snack ideas for different times of the day include an apple and peanut butter in the morning, yogurt and granola in the afternoon, and a handful of nuts and a piece of fruit in the evening. These snacks are nutrient-rich, easy to prepare, and won't leave you feeling overly full.
Senior Helpers is Here to Help Your Senior Thrive
Seniors should pay close attention to the snacks they eat throughout the day. Not only can a nutritious snack keep them feeling satisfied and energized, but it can also promote heart health and help regulate blood sugar levels. If you need extra help with snacking tips for seniors, grocery shopping, or other household errands, don't hesitate to contact Senior Helpers Central Valley North. Our compassionate in-home caregivers serve seniors in Fresno, Madera, Los Banos, Sanger, Selma, Reedley, and Atwater.