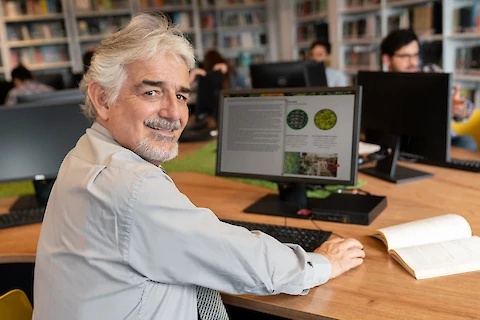 A library is more than just a place to find traditional print books. It's a hub of resources, programs, and opportunities for lifelong learning. Whether it's digital delights like eBooks and streaming services or engaging book clubs and computer classes, your local library is a haven of discovery and connectivity for seniors. Let's explore how libraries enrich the lives of our senior loved ones and foster a sense of community and belonging. 
Library Resources for Seniors
Modern libraries are a rich reservoir of resources for our beloved seniors. Traditional print resources like novels and newspapers are readily available for those who cherish the feel of paper in their hands. But did you know that libraries have also embraced the digital age? They offer a wide selection of digital books that cater to various genres and interests. Moreover, libraries provide streaming services. It's a way for seniors to stream their favorite movies or listen to music from yesteryears, all at the click of a button.
Programs and Services for Seniors
Libraries are more than just silent sanctuaries of books. They are centers of liveliness and recreation. Modern libraries have book clubs where like-minded bibliophiles gather to discuss their favorite authors and titles. They also offer computer classes aiding seniors in understanding the digital world. These institutions are about more than just reading. They offer various activities and services tailored for our older adults. For instance, there are meditation workshops, painting classes, and genealogical clubs. Check out your local library's event calendar to learn more. 
The Role of Libraries in Fostering Lifelong Learning
Libraries provide a platform for lifelong learning. With specially curated resources and services, they stimulate intellectual curiosity and active engagement among seniors. Education isn't limited to a specific age, and libraries are proof of that. They encourage older adults to absorb new information, learn new skills, and embrace the joy of expanding their horizons. Through computer classes, seniors can keep abreast of new technological advancements, making them feel more confident and connected in the digital age.
Social Engagement and Sense of Belonging
Libraries play a crucial role in fostering social engagement among seniors. The shared love for literature or common interest in learning brings people together. It's a hub of social interaction. Participating in book clubs, attending workshops, or exchanging pleasantries with fellow patrons often leads to forming new friendships. These engagements enhance seniors' quality of life and well-being, providing a vital sense of community belonging.
Senior Helpers Supports Seniors Living at Home
Your local library is more than just a repository of books. It's a vibrant, dynamic space that supports seniors in their quest for lifelong learning, social engagement, and a sense of belonging. If you or your loved ones live in Fresno, Madera, or Atwater and want more support in creating an engaging, fulfilling senior life, don't hesitate to contact us at Senior Helpers Central Valley North. We are here to support you in living your best life possible.