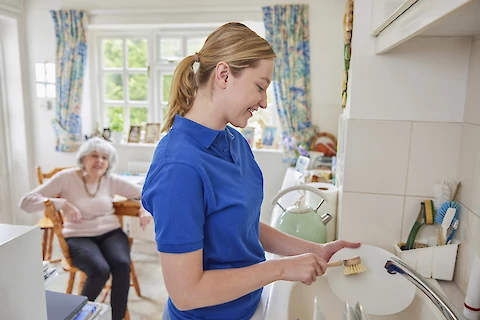 Does your senior loved one live in a larger home than they need, but they're not ready to downsize and move out? While downsizing offers several benefits, it's essential to respect the feelings and choices of your senior relative. One option to help manage a larger home involves hiring a caregiver to assist with various tasks and responsibilities. In this blog post, we'll explore how a caregiver will make maintaining your home more manageable, so your family member may continue enjoying the comfort of their precious space.
Benefits of Hiring a Caregiver 
The right caregiver may fill many roles to help your senior loved one stay in a home where they feel happy and comfortable. Some of the ways a caregiver may help your family member include:
1. Help with Organizing Handyperson or Landscaping Services
Finding reliable service providers: Seniors may find it overwhelming to search for and hire trustworthy professionals to handle various home maintenance tasks. A caregiver will help find reliable and qualified service providers. 
Scheduling appointments and overseeing the work: A caregiver's assistance will make it easier to schedule appointments and ensure good work takes place around your home. They will also monitor the progress, allowing your senior loved one to relax and focus on other aspects of their life.
 2. Checking in on the House
Ensuring safety and security: A caregiver may help maintain the security of your home by checking doors and windows, setting alarms, and addressing any potential hazards. This added layer of protection brings you peace of mind knowing your home is safe.
Identifying and addressing maintenance issues: A caregiver assists in identifying any maintenance issues, such as leaks or cracks, and ensures that they receive prompt attention. This precaution will prevent minor problems from turning into significantly more costly issues.
  3. Providing Cleaning and Organizing Services
 Keeping the home tidy and clutter-free: Housekeeping tasks sometimes become more challenging for seniors. A caregiver helps clean, organize, and declutter, ensuring your home remains comfortable and enjoyable.
Assisting with tasks that may be difficult for seniors: Certain tasks, such as reaching high shelves or lifting heavy objects, become more difficult as we age. A caregiver may assist with these tasks, allowing your senior family member to maintain independence without risking injury.
  4. Offering Companionship
Preventing feelings of loneliness and isolation: Larger homes sometimes seem empty, leading to loneliness and isolation. A caregiver provides practical support and valuable companionship, engaging in conversations and activities to make your home feel warm and lively.
Engaging in activities and hobbies together: A caregiver will provide your senior loved one with someone to share their hobbies and interests. Whether gardening, painting, or going for a walk, a caregiver provides supportive companionship and helps your senior stay active and engaged.
Tips for Finding the Right Caregiver
Consider the following points when searching for a caregiver to help your senior loved one manage a larger home:
Determine the specific needs and preferences of the senior: Before hiring a caregiver, identify your needs and preferences, as this will help you find the right match.
Research local caregiving agencies and services: Look for reputable agencies in your area that provide caregiving services, like Senior Helpers Central Valley North. Read reviews to get a sense of their reputation and quality of care.
 Interview potential caregivers and ask for references: Conduct interviews with likely caregivers, asking about their experience, skills, and approach to caregiving. Request references from previous clients to ensure the caregiver is reliable and trustworthy.
Consider a trial period to ensure compatibility: Before committing to a long-term arrangement, ensure your senior family member and caregiver work well together.
The Cost of Hiring a Caregiver
When assessing the cost of a caregiver, follow the points below:
Discuss the various factors that can affect the cost of a caregiver: Factors such as experience, certifications, and the level of care required can impact the cost of hiring a caregiver.
Compare the cost of a caregiver to the potential expenses of downsizing: While hiring a caregiver may seem expensive initially, it might represent a more cost-effective option than the expenses related to downsizing, such as moving costs or purchasing a smaller home.
Offer options for budgeting and finding affordable caregiving options: To find affordable caregiving options, explore different agencies, consider hiring a part-time caregiver, or discuss potential discounts or payment plans with the caregiving service.
We're Here to Help
A caregiver can help your senior loved one manage a larger home and enjoy the comfort of their familiar space without feeling overwhelmed. If you live in Fresno, Madera, Los Banos, Sanger, Selma, Reedley, or Atwater and are considering hiring a caregiver, contact Senior Helpers Central Valley North for compassionate and professional assistance. Our dedicated team will help your family member live comfortably in the home they love.