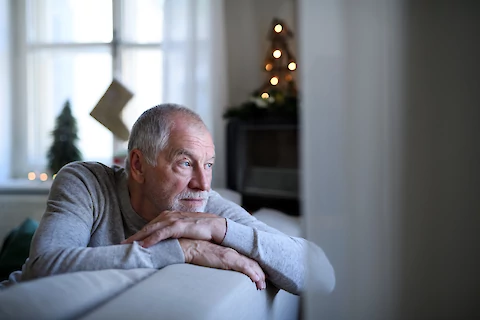 Many seniors and their loved ones have a fantastic time during the holiday season. Even if there are hardships or stressors during the holidays, the season still tends to give seniors and their loved ones something to think about to distract them from the more mundane parts of life. When the season is over, seniors may show feelings of isolation when they transition back to periods of the year with little opportunity for socialization.
Here's our guide to beating the post-holiday blues:
Encourage the Senior to Socialize
Many seniors will express that they miss their families, friends, and loved ones that they only see and hear from during the holiday season. However, many people are in the same situation and even volunteer at senior centers, churches, and public centers. The key to avoiding feelings of isolation after the holidays is to take advantage of how seniors notice the season. Address whether seniors notice differences in their mood when they have others around as opposed to when they are alone. If so, then encourage them to seek company.
Look up classes, groups, and places where seniors can go that will allow them to meet other people. Senior centers give seniors a place to meet others their own age with similar needs. They also let them interact with volunteers and staff trained to work with seniors. The right place to meet people is at gatherings that others attend to meet new people as well.
Look for Regular Events
The holidays occur each year. However, there are long periods of time between each one and seniors may feel lonely without regular social events. When thinking of seniors, try to sign them up for activities or events that occur more frequently, such as on specific days of the week. Many seniors, especially those who struggle with meeting new people or maintaining friendships due to shyness, tend to respond better to structured routines of socializing.
Try filling their calendar with local events throughout the year. This way, seniors can socialize throughout the year and not only during the holiday season.
Suggest Journaling and Therapy
When people feel lonely or unhappy, they are trying to cope with their emotions during a particular stage of life. Socializing with new people, maintaining old bonds, and getting out is one solution. However, it might be a good time to suggest that the senior reach out to a professional if they are experiencing depression, anxiety, and emotional distress. Therapists, journaling, support groups, and exercise might be necessary for seniors who show feelings of isolation.
How Senior Helpers of Berkeley Can Help
Senior Helpers of Berkeley provides in-home care services for seniors in Berkeley, El Cerrito, El Sobrante, Kensington, Oakland, Pinole, Richmond, San Pablo, and Vallejo areas. Contact us in our Alameda County offices to learn more about our services for seniors.