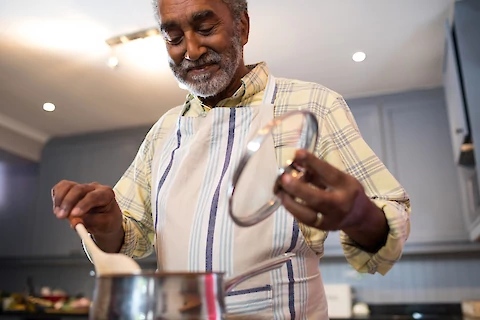 Slow Cooking 101: Easy Healthy Meals for Busy Seniors
You won't find too many busy seniors rocking on the porch today. As people continue to live longer, seniors from the baby boomer generation fill their golden years with meaningful work, travel, hobbies, and volunteering. Staying healthy is essential to living your best life, and nutrition represents a vital component of a healthy life. What's more, going out to dinner, meal plan subscriptions, and carryout or delivery can drain a senior's food budget, and often lack nutrition. As a busy senior, you may not picture yourself spending hours in front of the stove, especially if you cook for one or two. But at Senior Helpers of Berkeley, we recommend trying slow cooking for quick, easy, and nutritious meals.
The Importance of Nutrition
As time passes, our metabolism slows down, no matter our degree of activity. As seniors, we must limit empty calories from sugary, fatty, as well as salty foods. Eating healthy will not only help seniors control their weight but also stave off and control diseases such as diabetes, heart conditions, arthritis and other inflammatory types of diseases, and certain types of cancer.
No surprise, the kinds of foods best for the elderly person's diet consist of the same types of foods we should eat all our lives: fruits and vegetables, whole grains, lean meats, poultry, fish, as well as healthy fats.
Slow cooking allows us to combine healthy ingredients to make an economical and healthy meal.
The Benefits of Slow Cooking
In addition to saving money and eating healthy, using a slow cooker provides other benefits:
Way less mess- Seniors will only have one pot to clean!
Better tasting food- Slow cooking also naturally makes food more flavorful and tenderizes the meat.
Easy-to-freeze leftovers for future meals- See-through freezer bags will make it easy to enjoy that nutritious and tasty soup the following week.
Enjoy a delicious meal in your home- Not only does eating at home save you money, but it saves you time as well.
Slow Cooker Suggestions
For seniors living alone, consider a slow cooker that holds a quart-and-a-half. In fact, several options exist from makers such as Proctor Silex and Nesco. Many seniors prefer slow cookers with manual controls rather than programmable features.
Seniors living with a spouse or roommate may also consider a three-quart option, especially if their freezer provides room for future meals. The stainless steel three-quart Crockpot still offers one of the most popular slow cooker choices, and Hamilton Beach also provides some three-quart options.
Healthy Slow-Cooker Recipes Seniors Can Try
If you're willing to wade through the ads, you'll find unlimited slow cooker recipes online by just doing a Google search. What's more, seniors can also join Facebook groups and Instagram to get recipes online.
There is also no shortage of books loaded with slow cooker recipes; some are explicitly geared toward healthy recipes. Check out the 800 Crock Pot Recipes Cookbook.
Here are a couple of tasty and healthy recipes seniors can try:
Healthy White Chicken Chili:
Ingredients:
1 lb. chicken breasts
1 cup diced onion
4 oz. of diced green chiles
Cannellini beans
Frozen corn
1 cup chicken broth
1 tbsp. minced garlic
1/2 tbsp. paprika
2 tsp. chili powder
1/4 tsp. of turmeric
1/4 tsp. of pepper
1/4 tsp. of salt
Instructions:
Lay chicken breasts along the bottom of the crockpot and cover with onions, garlic, green chiles, broth, and spices.
Cover and cook on low for 6 hours.
After 6 hours, shred chicken breasts. Shred them right in the crockpot with two forks or remove from the pan and pull them apart on a cutting board. The chicken will be tender enough that it falls apart. Stir the chicken back in with the other ingredients. Add cannellini beans and frozen corn.
If time permits, allow the chicken to sit for 10-20 minutes after shredding the chicken. The chicken will also absorb some of the liquid and thicken the chili.
Garnish as desired.
Split Pea Soup from Delish:
Ingredients:
2 tbsp. extra virgin olive oil, divided
1 (1 lb.) smoked ham hock
1 medium yellow onion, chopped
2 medium leeks (white and pale green parts only), thinly sliced
2 large shallots, minced
Kosher salt
Freshly ground black pepper
1 lb. dried green split peas
8 cups low-sodium chicken broth
2 sprigs of fresh thyme, plus more for garnish
2 bay leaves
Parmesan cheese
Instructions:
In a slow cooker, combine split peas, onion, carrots, celery, garlic, thyme, ginger, as well as red pepper flakes. Pour broth over and add ham bone.
Season with salt and pepper.
Cook on high for 4 to 5 hours or low for 6 to 8 until peas are completely soft.
Remove the ham bone from the slow cooker and shred any remaining meat. Add meat back to the slow cooker.
Top with Parmesan before serving.
We Can Help
Active seniors in Berkeley, Oakland, Alameda County, Vallejo, Pinole, San Pablo, El Sobrante, Richmond, Kensington, as well as El Cerrito areas of Northern California, can get their questions answered on how to live a healthy life by contacting Senior Helpers of Berkeley.
Take a look at how our caregivers can help seniors with excellent in-home care services.