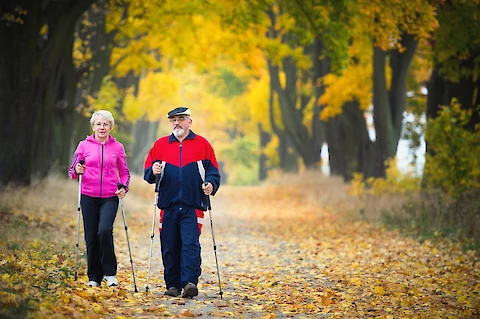 Fall is here, and it's time to toast the season with fun, enjoyable activities that stimulate both the body and the mind. For seniors, this festive time of the year offers a multitude of opportunities to get active, be creative, and embrace the pleasures of the season. Whether it's taking a crisp walk to marvel at the fall colors, cozying up with a riveting novel, or baking delicious holiday treats, there are fun fall activities for seniors to enjoy.
Senior Helpers Berkeley believes in the importance of seasonal activities as they not only promote physical health but also contribute to a positive mindset and engaged cognition. Here are some of the top fall activities for seniors that cater to different mobility levels, honor personal preferences for socialization or solitude, and guarantee an enjoyable and safe autumn experience.
Outdoor Fall Activities for Seniors
There's no better way to welcome the fall season than stepping out into the crisp air and eye-catching autumn foliage. A simple, invigorating nature walk can offer tremendous health benefits, promoting cardiovascular fitness and enhancing mood. Berkeley and the surrounding areas are rich with beautiful trails that cater to various fitness levels.
For seniors looking to combine the outdoors with a bit of festive spirit, why not visit a local pumpkin patch? Not only are pumpkins synonymous with fall, but they also provide numerous health benefits. Local areas have several delightful pumpkin patches that often host additional fun activities.
Fall festivals can also be an enjoyable way to soak up the season's atmosphere. They provide an excellent opportunity for social interaction, which is fundamental for emotional well-being.
Indoor Fall Activities for Seniors
If seniors prefer indoor fall activities, they're still in for a treat. Crafting is a great way to stimulate cognitive abilities while creating beautiful reminders of the season. Seniors can try making autumn-themed crafts – from leaf prints to fabric pumpkins, the options are endless.
Baking is another wonderful indoor activity that allows seniors to create and enjoy holiday goodies. Beyond being a fun pastime, cooking stimulates the senses and can even boost memory. Try out some simple and delicious fall recipes, such as apple pies or pumpkin bread.
As the weather cools down and the evenings grow long, there's nothing like curling up with a good book. Reading is an exceptional activity for seniors, aiding in mental stimulation, stress reduction, and possibly even improving memory.
Safety Considerations for Fall Activities
While enjoying these fall activities, seniors should always consider their personal health and safety. For outdoor activities, ensure seniors are dressed appropriately for the weather and terrain. For indoor activities that involve new procedures, like cooking or crafting, don't hesitate to ask for guidance if needed.
Discover Personalized Senior Care Services
Fall brings with it a cornucopia of activities for seniors to enjoy and thrive in. From the natural beauty outdoors to the comfort of indoor pursuits, there's something for every senior to appreciate this season. And remember, no matter what you choose, your safety and enjoyment are paramount.
At Senior Helpers Berkeley, we're here to support you through custom senior care services. Contact us today for more information on how we can help make your autumn more vibrant, engaging, and fulfilling.