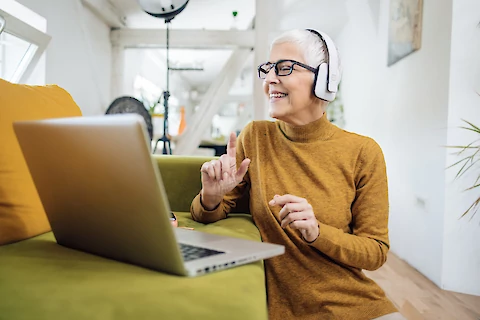 Do you ever listen to podcasts? They are digital audio files, a bit like radio shows, that you can download or stream on your computer or smartphone. In fact, they cover almost every topic you could imagine - from history and health to science and storytelling. They're not only for the young but also for the young at heart! Seniors can greatly benefit from listening to these engaging and informative shows. As we grow older, it's particularly vital to keep our minds sharp and active. Podcasts present an excellent opportunity to do just that, right from the comfort of our own homes. Senior Helpers Berkeley has what you need to know about educational podcasts for seniors!
The Benefits of Educational Podcasts
Listening to educational podcasts has several fantastic benefits for seniors. Firstly, they are tremendous for cognitive function. While we listen, we take in information, ideas, and viewpoints that stimulate our brains. This mental stimulation can help maintain cognitive health, helping ward off conditions like dementia and Alzheimer's.
Educational podcasts are an excellent way for seniors to increase their knowledge and understanding of a broad spectrum of subjects. There is virtually no limit to the topics that podcasts cover. Whether seniors are passionate about history, science, arts, or even just curious about the latest news, there's likely an educational podcast out there that will inform and delight them. Consequently, they are a brilliant way to keep seniors in tune with current events, new scientific discoveries, and cultural trends.
Besides being a healthy brain workout, podcasts are downright enjoyable. They aren't just lectures or textbooks read aloud. They are created with the aim to entertain as well as inform. Many weave stories, insights, and humor into their episodes, providing a remarkable mix of fun and learning. It's like having a conversation with a knowledgeable friend, just press play and let the learning (and enjoyment!) begin.
Recommended Educational Podcasts for Seniors
Thankfully, many educational podcasts are designed with seniors in mind, featuring themes and pacing that cater to their preferences. 'The Daily' by The New York Times is a great choice if seniors enjoy keeping up with current affairs. If seniors are a fan of mysteries, 'Criminal' is a thrilling podcast that explores true crime stories with interesting twists. On the other hand, 'Stuff You Should Know' is a fun, general knowledge show that covers a wide array of topics.
The best way to determine what educational podcasts are right for seniors is to listen to a few. There are hundreds to browse through on audio platforms, such as Spotify or Audible.
Start Your Caregiving Journey With Senior Helpers
At Senior Helpers Berkeley, we believe staying sharp and connected significantly contributes to the quality of life for seniors. That's why we are committed to providing top-notch, compassionate senior care services to our clients in Berkeley, Oakland, Alameda County, Vallejo, and El Cerrito.
If you're looking for support in maintaining an enriching lifestyle for yourself or a loved one, contact us. Let's explore together how we can keep the golden years truly golden!