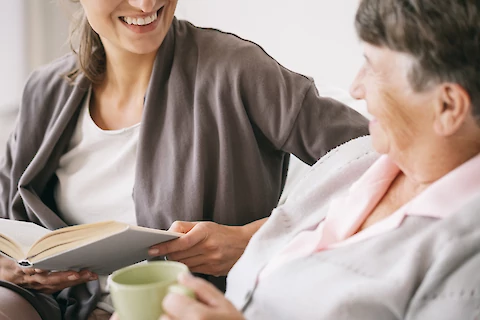 Caring for a senior loved one can be both incredibly rewarding and immensely challenging. As a caregiver, it's important to find support and insight to navigate this journey with grace and resilience. One of the most accessible and comforting ways to gain knowledge and understanding is by reading books. In this blog post, courtesy of Senior Helpers Berkeley, we have curated a list of must-read books for senior caregivers, including both practical nonfiction guides and captivating fiction stories.
Whether you're looking for expert advice or a relatable narrative, these books will provide valuable perspective and encouragement to help you through your caregiving journey.
Nonfiction Books
One of the essential books for senior caregivers of individuals with dementia is "The 36-Hour Day: A Family Guide to Caring for People Who Have Alzheimer's Disease, Related Dementias, and Memory Loss" by Nancy L. Mace and Peter V. Rabins. This comprehensive guide covers practical advice on various aspects of care. It also provides emotional support for those taking care of their loved ones.
Another excellent resource is "Caring for Your Aging Parents: When Love Is Not Enough" by Barbara Deane. This guide, specifically tailored for adult children taking care of their elderly parents, addresses the emotional, financial, and legal issues involved in caregiving. It offers valuable guidance on making difficult decisions and having honest conversations with senior parents.
For caregivers looking to maintain their personal well-being while providing care, "The Caregiver's Survival Handbook: How to Care for Your Aging Parent Without Losing Yourself" by Alexis Abramson is highly recommended. This book offers tips on balancing caregiving responsibilities with personal life, ensuring that caregivers don't lose themselves in the process.
Fiction Books
"Still Alice" by Lisa Genova is a poignant novel about a woman with early-onset Alzheimer's disease. This book offers readers insight into the experience of living with dementia. It also raises awareness about the challenges faced by both the individual and their caregivers.
"The Memory Keeper's Daughter" by Kim Edwards features the story of a family dealing with a child with Down syndrome. It explores themes of caregiving and family dynamics, showcasing the beautiful and complex relationships that form when faced with adversity.
"The Story of Arthur Truluv" by Elizabeth Berg is a heartwarming novel about an elderly man and a troubled teenager who form an unlikely friendship. This book beautifully depicts the power of intergenerational caregiving and the importance of connection.
Memoirs
"The Year of Magical Thinking" by Joan Didion is a deeply moving memoir about the author's experience of grief and caregiving after her husband's death. This offers readers a firsthand look at the emotional side of caregiving and the ways in which we process loss.
"Can't We Talk About Something More Pleasant?" by Roz Chast is a graphic memoir about the author's experience caring for her aging parents. Combining humor and heartbreak, it illustrates the challenges of caregiving and the importance of finding levity in the darkest moments.
Senior Helpers Offers Senior Care Solutions
Reading books can be an invaluable source of support and insight for senior caregivers. From practical advice to emotional revelations, these must-read books will provide senior caregivers with the knowledge and understanding needed to navigate their caregiving journey with confidence and empathy.
If you're a caregiver in Berkeley, Oakland, Kensington, or El Cerrito, your journey doesn't have to be a solitary one. Contact Senior Helpers Berkeley for professional support, resources, as well as guidance to enhance your caregiving experience.