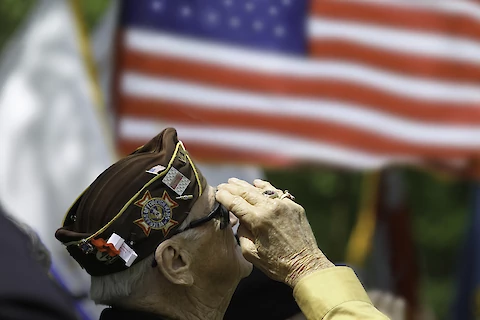 As we approach Memorial Day, it's important to remember the true meaning behind this special day. It's about honoring those who have served and sacrificed for our country. Among our heroes are senior family members who are veterans or surviving spouses of veterans, and they deserve our utmost respect and appreciation for their service.
In this blog post from Senior Helpers Berkeley, we'll provide you with a genuine and engaging guide to help you pay tribute to these cherished family members on Memorial Day. From national events and ideas to local events in Berkeley and surrounding areas, we'll share a variety of ways to show your gratitude and create lasting memories with your loved ones.
General Ideas for Memorial Day Tributes
As we begin to think about how to pay tribute to our senior family members who are veterans or surviving spouses of veterans, there are many ideas that can create a meaningful and memorable Memorial Day experience. One of the most traditional ways to honor a veteran is by visiting their gravesite.
Taking the time to clean and decorate the grave with flowers or flags shows respect and gratitude for their service. This can also be a special opportunity for family members to spend time in reflection or to share memories and stories about their loved ones.
Another powerful way to pay tribute is by sharing the stories and memories of your veteran family members. Encouraging seniors to recount their experiences and discuss their time in the service can provide them the opportunity to reminisce. It also allows younger generations to learn about and appreciate the sacrifices made by those who served. Consider recording these stories so that they can be preserved and shared with future generations.
Local Events and Activities in Berkeley and Surrounding Areas
There are a variety of local events and activities that can make Memorial Day truly special. Keep an eye out for Memorial Day parades or ceremonies taking place in the local area. Attending these events with your family is a great way to show appreciation and support for veterans in your community.
Another option is to visit local veterans' memorials or museums to explore the history and sacrifices of veterans. Spending a day learning about and paying respects to veterans can foster a deeper understanding and appreciation for their service. Additionally, consider participating in community service projects focused on veterans. This can include volunteering at a local veterans' hospital or organizing care package drives for active-duty military members.
Other Ways to Bond and Pay Tribute
Beyond these activities, there are many other ways to bond as a family and pay tribute on Memorial Day. A family gathering or cookout in their honor provides an opportunity to bring friends and extended family together in celebration. Incorporate the veteran's favorite foods or traditions into the event to make it even more special.
Watching a movie or documentary about the veteran's time of service can also be a great bonding activity. Choose a film that is relevant to their experiences, and be sure to engage in conversation about the film afterward. Ask your senior family member to share their thoughts and perhaps draw parallels to their own stories.
Finally, consider writing letters or creating artwork to express your gratitude to your veteran family member. Encourage children and grandchildren to participate in this project, which can then be presented as heartfelt gifts on Memorial Day.
Get Personalized Senior Care From Senior Helpers
As we reflect on the various ways to honor and pay tribute to our senior veteran family members, remember the importance of showing appreciation and preserving their stories for future generations.
If you or a loved one are in need of assistance, contact Senior Helpers Berkeley for compassionate and professional in-home care services in Berkeley, Oakland, Alameda County, Vallejo, Pinole, San Pablo, El Sobrante, Richmond, Kensington, and El Cerrito. Let us help you provide the best possible care for your veteran family members, as we continue to cherish and respect their invaluable contributions to our nation.