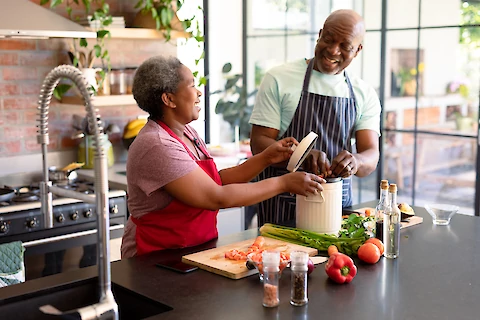 As we age, our nutritional needs and dietary habits change, and making sure we eat a healthy diet is essential to maintain our overall health and well-being. Eating a nutritious diet can help us prevent chronic illnesses, boost our energy levels, and improve our quality of life. Meal planning on a budget is an effective way to ensure seniors are getting the nutrition they need while saving time and money. Read on to learn how you can successfully plan meals on a budget.
Steps for Healthy Meal Planning on a Budget for Seniors
Step 1: Assess Nutritional Needs
It is important to understand personal nutritional needs and dietary restrictions before beginning meal planning. Start by consulting with a healthcare provider or registered dietitian to determine your specific requirements, such as any dietary guidelines, allergies, and food preferences. This will be the foundation for your meal plans in the following steps.
Step 2: Plan Meals for the Week
Once your particular needs are understood, it is time to plan meals for the week. Try organizing meals around a central ingredient, like a protein source. For example, choose chicken and plan meals that incorporate it in different ways: grilled chicken salad, chicken stir fry, or baked chicken with roasted vegetables. Create a grocery list indicating the required ingredients for each meal. Check what is already in the pantry and fridge before heading out to the store.
Step 3: Shop Wisely
Shopping wisely can help save time and money while still selecting nutritious foods. Consider buying in bulk if it is available, and look for deals on larger packages of non-perishable items like rice or canned goods. To save money, use coupons and take advantage of store discount offers. Check the store's weekly ad for sales and promotions, and use store loyalty cards to earn points or discounts. Shopping at farmers' markets or local grocery stores is a great way to support the local economy and find fresher produce.
Step 4: Prepare and Store Meals
Prepare meals in advance when possible. Set aside a day or time to batch-cook meals for the week and use slow cookers or pressure cookers for easy and efficient cooking. Take the extra time to store any leftovers in airtight containers in the fridge or freezer, so you can enjoy them for future meals.
Senior Helpers Can Help
Meal planning on a budget is a beneficial way to help seniors stick to their dietary needs and goals while saving time and money. At Senior Helpers of Cerritos, we encourage seniors to enlist help from family or caregivers if needed and remind them that healthy eating is an important investment in their overall health and well-being. For more information on senior care or additional meal planning and nutrition tips, contact us, the trusted in-home senior care company near Artesia, Cerritos, Buena Park, La Palma, La Mirada, and Lakewood.