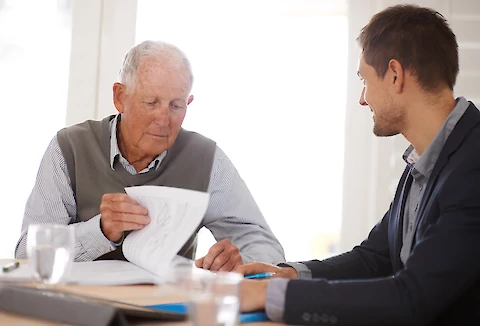 Having a conversation with your loved ones about their medical wishes can be an uncomfortable topic for some, but it's a necessary one. Research has found 56 percent of seniors who have not had these conversations just had yet to get around to it, while 23 percent said they do not like talking about these things, and 21 percent did not think it was necessary. 
Still, it's a meaningful conversation to have, and it's essential to understand the necessary steps to ensure their medical wishes are respected. Advance Care Planning is a significant undertaking worth investing time in at any age. Ensuring your senior parents have their Advance Care Plans taken care of will help put everyone's mind at ease.
What is Advance Care Planning?
Advance Care Planning is a way to prepare for any medical issues or emergencies as they arise in the event your loved one cannot make decisions. It involves making the healthcare decisions they want to make and outlining the types of medical care they want and do not want. These decisions are documented and preserved—usually by an Advance Health Care Directive—and, although often associated with senior citizens, it's a valuable process for people of any age.
What is a Health Care Directive?
An Advance Health Care Directive is a type of documentation that provides instructions for how you want your medical needs to be addressed. Many documents can be included when establishing these desires, but at least a living will and a durable power of attorney would be good to have. 
A living will establishes the types of medical care you wish to have if you become unable to make your own medical decisions. A durable power of attorney for health care appoints a medical decision-maker, usually a loved one or family member, who can make medical decisions for you if you're not capable of doing it.
Know Your Parents' Caregivers
With your senior parents' healthcare wishes established, you should get to know those who tend to their medical needs and conditions. This will help ensure you ask the right questions when checking on your parents. Be sure you have the names and contact information for each health care provider—including in-home care providers—so you can follow up with any questions or concerns.
Hire the Right People
More and more, today's elderly enjoy living independently in their senior years with the help of others. While there are a lot of independent living facilities, most senior citizens would prefer to stay in the comfort and familiarity of their own homes, according to research from AARP. However, while this might be desirable, there could be challenges, such as difficulty climbing stairs, forgetting to take medications, and being unable to run errands or do light cleaning.
Hiring the right people is vital to ensure your senior parents are cared for and safe. If your elderly loved ones are in the Artesia, Cerritos, Buena Park, La Palma, La Mirada, or Lakewood areas, let's talk about how the homecare professionals at Senior Helpers can provide them with the time, attention, and assistance they need. 
Contact us today to schedule a conversation.