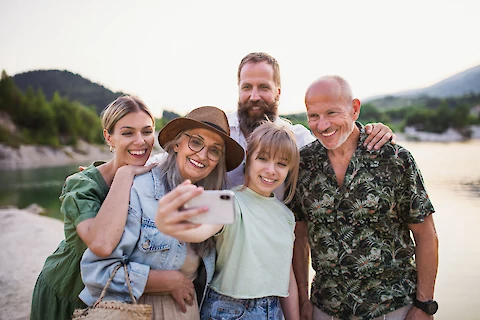 Spending quality time with family members of all ages is invaluable, and one of the best ways to create lasting memories is by embarking on a multi-generational family vacation. When grandparents, parents, and children travel together, it strengthens family bonds and allows for a richer, shared experience. However, seniors may face unique challenges during travel. Here are some helpful tips and advice on ensuring everyone has an enjoyable experience while traveling as a multi-generational family.
Selecting a Destination
The first step in planning a multi-generational family vacation is to choose a destination that caters to the interests and abilities of everyone involved. Accessibility and mobility should be top considerations, as well as the weather and climate since extreme temperatures or conditions can be particularly challenging for seniors. Be sure to consult with all family members for their input and research senior-friendly destinations that offer a variety of activities for all age groups to enjoy.
Accommodations
When selecting accommodations for your family vacation, consider whether a hotel or vacation rental would be the best option. Hotels often offer senior discounts and amenities, while vacation rentals can provide a more home-like experience with the added benefit of a kitchen and common living spaces. Regardless of the type of lodging you choose, ensure that it has appropriate accessibility features, such as the ground floor or elevator access, and is wheelchair-friendly if needed. Additionally, select accommodations close to the activities and attractions your family plans to enjoy.
Activities Planning
To ensure that everyone in the family has a memorable and enjoyable vacation, strike a balance between the interests of all family members. Be sure to include activities catering to seniors while scheduling downtime for rest and relaxation. To ensure that your senior family members can participate in activities, choose options with varying levels of physical exertion, and look into mobility aids or equipment rentals if needed. Flexibility is critical when planning a multi-generational vacation. Be prepared to adapt your plans to accommodate changes in health or interests.
Mobility Considerations
Before embarking on your family vacation, make any necessary arrangements for wheelchair or mobility aid rentals to ensure seniors can comfortably navigate their surroundings. Plan transportation to and from activities, and research accessible public transportation options if necessary. When navigating airports, don't hesitate to request assistance from airport staff to help make the journey as smooth as possible for your senior family members.
Health-Related Aspects
To keep seniors healthy and happy during your multi-generational family vacation, make sure they have enough medication for the duration of the trip. Keep medicines in their original containers and bring copies of prescriptions in case of emergency or refills. When dining, research restaurants and other food options that cater to dietary restrictions and plan snacks and meals that meet seniors' nutritional needs.
Consider purchasing travel insurance that includes coverage for medical emergencies, and keep a list of emergency contacts and medical information readily accessible. This added layer of security will help give you peace of mind while traveling with your senior loved ones.
We're Here to Assist With Senior Care Needs
Planning a multi-generational family vacation enjoyable for everyone involved requires careful consideration and communication. Senior Helpers assists with your senior care needs for those in Artesia, La Mirada, and Lakewood. Contact us for support, and let us help make your family vacation even more enjoyable.