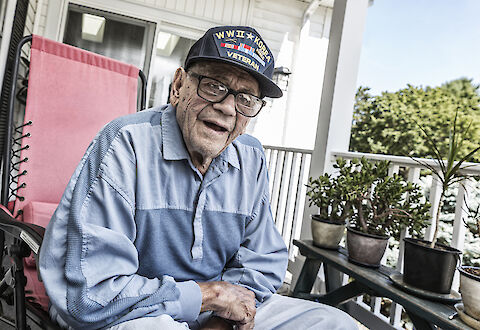 Memorial Day is a special time to honor and remember the brave individuals who have made the ultimate sacrifice for our country. This day holds even greater significance for families with senior loved ones who are veterans or the surviving spouses of veterans. 
In this blog post from Senior Helpers Cerritos - La Palma - La Mirada, we'll explore various ways to pay tribute to these cherished family members.
Timeless Tribute Ideas
As we dive into different ways to pay tribute to senior family members who have served our country, one meaningful and personal idea is to create a photo album or scrapbook of their military memories. To do so, collect photos, letters, and other memorabilia from their time in the service. Then, sit down together and discuss the stories behind each item, lending a unique perspective to these treasured keepsakes.
Another thoughtful gesture is to write a letter or poem expressing gratitude for their service. This allows you to share your personal feelings and thoughts in a heartfelt way. Present your written tribute as a special gift, offering both your words and your time to your loved one.
In addition to keepsakes and heartfelt words, consider cooking a special meal featuring their favorite dishes. Invite other family members to partake in the meal, making it a warm and intimate gathering. Share stories and memories during the meal, honoring your loved one and creating new memories in the process.
Local Events and Activities
Attending a Memorial Day parade or ceremony is a classic way to pay tribute when it comes to local events and activities. Be sure to bring folding chairs, blankets, and snacks to ensure everyone's comfort during the festivities.
Additionally, visiting a local veterans memorial or museum can be both educational and moving. Spend time reflecting on the sacrifices made by veterans, and take photos to remember the day. This shared experience can deepen your bond and appreciation for your loved one's service.
Volunteering at a veterans organization or event is another way to show support and appreciation. Offer your time and skills to local veterans, whether it's through a fundraising event, a care package drive, or simply providing company for those who served. Encourage other family members to join in the effort, turning the day into a family tradition of giving back.
Other Helpful Ideas for Bonding and Paying Tribute
Sharing stories and memories of their service can be incredibly powerful as you spend time with your loved one. Encourage other family members to share their own memories and consider recording these stories for future generations. This exchange of tales creates connections and fosters understanding.
Watching a movie or documentary about their branch of the military or a specific battle they were involved in can also spark conversations and memories. Discuss their personal experiences and how they relate to the film, using the movie as a starting point for further conversation.
Senior Helpers Honors and Supports Veterans
Honoring and paying tribute to senior family members who are veterans or surviving spouses of veterans is an essential aspect of Memorial Day. By implementing the ideas mentioned above, you can create a heartfelt, memorable experience for your loved ones.
Contact us if you're residing in the Artesia, Cerritos, Buena Park, La Palma, La Mirada, and Lakewood areas and are looking for support in caring for your senior family member. Our compassionate team at Senior Helpers Cerritos - La Palma - La Mirada provides a range of services to enhance the lives of both seniors and their families.