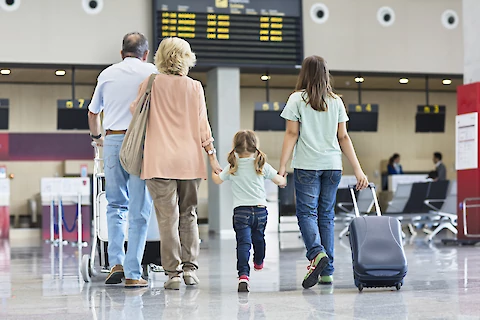 If you are planning to travel with a senior, it is important to remain vigilant and organized to ensure a smooth trip. From security to boarding, there are a variety of challenges that a senior may face while traveling. Take a look at how you can make layovers easier for you and your senior loved one. 
Identifying Airport Challenges For Seniors
Before beginning any trip, it is important to consider what challenges a senior may face while navigating an airport. From going through security to locating a lounge, seniors may struggle to complete the same tasks that are manageable for younger travelers. In some cases, airport personnel may even miss identifying seniors who may need assistance. That is why it is so important to plan ahead and be prepared to handle any issues that may arise. Take the time to consider what challenges your loved one will most likely face, whether it's mobility issues that will make it difficult to get from one gate to the next or low energy levels that could make delays tough to manage. 
Research The Airport Ahead Of Time
Researching the airport ahead of time is the best way to prepare for a successful trip. Seniors and their family members should look into the services and amenities that the airport offers. For instance, finding out if there is a lounge or quiet area to relax and unwind during layovers is a great way to make the senior feel more comfortable. It is also important to check for wheelchair access and other accommodations available for seniors.
Trying to navigate a crowded airport with a large suitcase or two can be an exhausting challenge for a senior and their caregivers. When packing for traveling with a senior, keep the amount of luggage to a minimum. To make the process easier, make sure to only bring the essentials and to consider primarily using a carry-on bag. This can help  keep the experience stress-free, which can lead to a better overall experience. 
Arriving early should be an essential part of any traveler's plan. This is especially important when it comes to traveling with a senior. Give yourself and the senior plenty of time to make it through check-in lines and security. Allowing extra time to make it through this process will give the senior time to rest and regain their energy. Knowing that you don't have to rush can also give you more patience if your senior loved one is moving slowly. 
Bring Along An Extra Companion
No matter what age you are, help is always appreciated. Bringing along an extra companion can be a great help when it comes to traveling with a senior. An extra companion can help with maneuvering luggage, locating the gate, or just providing some extra support.
No matter how much you plan, it is important to create a backup plan for any airport issues that may arise. Keeping your phone charged, having the airport's customer service number available, and keeping track of your flight times are all key factors when you are trying to create a backup plan. You may also want to know what options are available in the area for emergency medical care. 
Senior Helpers Can Offer More Care Back Home
Traveling with a senior can result in a smooth trip if the right steps are taken. From researching the airport ahead of time to creating a backup plan, planning for the trip can help make the experience easier for both the senior and the person accompanying them. Traveling with your senior loved one can, however, can let you know about unexpected challenges your loved one may be dealing with. If you are looking for in-home senior care in Tucson Southeast, Green Valley, Oro Valley, Rita Ranch, Vail, Sahuarita, and Marana, look no further than Senior Helpers Tucson. Contact us today to learn more about our services!