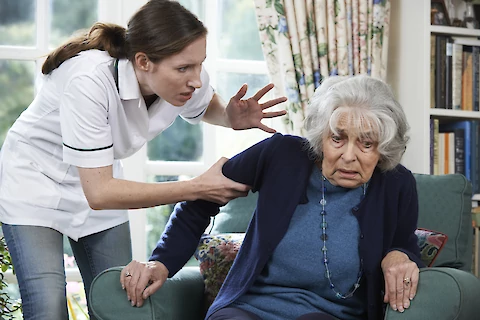 If you are caring for a senior loved one with Alzheimer's disease, it can be difficult to figure out how to manage the situation. Many caregivers find themselves dealing with a high level of stress as they look after a loved one who needs that higher level of care. That's why it can be helpful to add coping skills such as breathing exercises, guided imagery, and mindfulness into your routine in order to help deal with some of the unique challenges of caring for someone experiencing memory loss. 
Caring For A Senior With Alzheimer's Disease
Caring for a senior with Alzheimer's disease can be one of the most difficult and challenging tasks that a caregiver will face. There are many specific issues that may arise when dealing with a loved one with Alzheimer's Disease, including:
Managing daily confusion as memory deteriorates
Communicating clearly while dealing with increasing agitation & aggression 
Handling unpredictable behaviors like wandering  
Navigating finances, power of attorney and other legal documentation when your loved one can no longer manage them alone
Feeling emotionally drained while trying to remain patient and understanding during good days and bad days alike
Learning Alternative Coping Skills
There are many ways to cope with the unique challenges presented by caring for a senior loved one with Alzheimer's. These alternative coping skills can help you slow down and learn how to deal with many of those challenges. 
Breathing Exercises: Deep breathing exercise allows you to focus on taking long breaths in and out through your nose in order to gain a sense of calm. Often, focusing on your breathing can help you ease frustration. 
Guided Imagery: Guided imagery focuses on visualizing peaceful images or scenarios while controlling thoughts and eliminating distractions by focusing on particular sound elements like waterfalls. 
Mindfulness: Mindfulness is the concept of bringing awareness into everything you do. Taking moments throughout each day dedicated solely towards releasing stress while promoting gratitude has been shown over time to be conducive when dealing with stressful situations.  
Self-Care: Self-care should always come first! Make sure to dedicate time once a week or once a month towards yourself, as it can help improve physical health & emotional well-being. 
Making Alternative Coping Skills Part Of Your Routine
It's important to identify the most suitable activities for your lifestyle and integrate them into your daily routine. Make some time every day for these tasks, both for yourself and as a way to reduce stress when caring for someone with Alzheimer's Disease. Try out different activities that help you release stress, such as scheduling walks outdoors or taking online classes with meditation instructors who offer classes specifically aimed at caregivers facing unique challenges.
Get Additional Help Caring For A Loved One With Alzheimer's
If you are struggling to care for a senior loved one with Alzheimer's alone or simply need respite, Senior Helpers Tucson can help. Contact us today to learn more about our in-home care options for seniors in Tucson Southeast, Green Valley, Oro Valley, Rita Ranch, Vail, Sahuarita, and Marana.