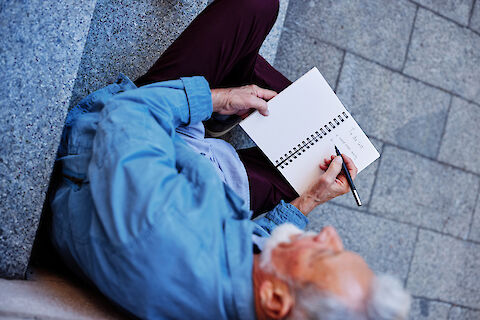 9 Tips for Sticking With Your New Resolutions in 2023
At the start of a new year, many seniors make resolutions to improve their overall health and well-being. While it can be easy to get caught up in all of the enthusiasm for making positive changes, sticking with those resolutions throughout the entire year may be more challenging. If you're looking for tips on how to stick with your New Year's resolution this year, try these helpful strategies.
1. Set Realistic Goals
When you first set your New Year's resolution, make sure it's realistic. For example, if you're hoping to start exercising regularly or eating healthier this year, make sure you are not setting unrealistic expectations for yourself by completely throwing out all the junk food in the house and insisting on cooking every meal from scratch, or jumping into an intense workout routine that could result in injury. Start small and gradually increase the intensity or duration of your workouts as you progress throughout the year.
2. Break Bigger Goals Down Into Bite-Size Steps
If you have a larger goal that may take more time and effort to achieve, it can be helpful to break it down into smaller, achievable steps. For example, if your resolution is to lose 20 pounds by the end of the year, you could create a plan for yourself that involves creating healthy eating habits as well as increasing your physical activity. Taking small steps each week will help make this bigger goal much more manageable. Having smaller goals in mind can also make it easier to keep on track since you get to celebrate smaller milestones along the way.
3. Identify Potential Obstacles
Be aware of any potential obstacles that may get in the way of achieving your goals. For instance, if you are planning on exercising more often but have limited mobility or access to transportation, those challenges could make it hard for you to start down the path toward that resolution. Thinking ahead and being prepared for any roadblocks can help you move toward your goal.
4. Commit To A Plan
Once you have identified the goals that you want to achieve, make sure to commit to a plan and stick with it. Schedule those important pieces of your resolution. For example, if you want to exercise more, commit to attending a class a couple of times a week or going for a walk each morning.
5. Set Up Reminders
It can be easy to forget or get sidetracked from your resolutions, so setting up reminders and visual cues can help you keep focused. Try putting a post-it note somewhere that is easily visible, like on the refrigerator or bathroom mirror, with your goal written down as a reminder. You could also set an alarm on your phone for times when you need to do something related to your resolution.
6. Find An Accountability Partner
Having an accountability partner can be a great way to stay motivated with your resolution. Try finding a friend or family member who is also looking to make positive changes this year, so you can support each other throughout the process. 
7. Track Your Progress
Tracking your progress can help you see how far you have come with your resolution. Whether it's tracking the number of steps you take each day or the number of days you have made progress toward your goal, carefully noting your progress will help you feel more connected with your goals.
8.  Celebrate Milestones
Don't forget to celebrate the milestones you reach throughout the year. Whether it's taking your first steps towards a healthier lifestyle or achieving one of your larger goals, recognizing and celebrating these achievements can help keep you motivated and remind you why you are working towards this goal in the first place. 
9. Seek Help When Needed
Finally, if you find yourself struggling to stick with your resolution or if you're feeling overwhelmed, don't hesitate to reach out for help. You may, for example, need transportation assistance, or discover that you need a partner who can come alongside you and encourage you to keep meeting those goals.
Make Getting the Help You Need Your Resolution This Year
Are you struggling with basic self-care tasks or tasks around the house? Our in-home senior care company can help seniors in Tucson Southeast, Green Valley, Oro Valley, Rita Ranch, Vail, Sahuarita, and Marana with basic self-care tasks, respite care, and more. Contact us today to learn more about how Senior Helpers Tucson can provide the support you need to knock your New Year's resolutions out of the park.