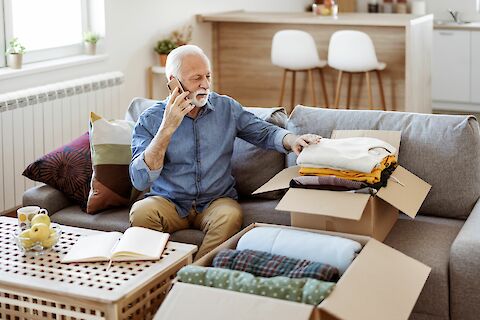 Four Ways For Seniors To Celebrate National Giving Month At Home.
December is recognized as National Giving month. During this month, many Americans living in Vail, Sahuarita, and the surrounding areas help others in different ways. Some offer food and clothes to the less fortunate, while others try to meet American communities' unmet educational, environmental, and health needs.
The concept of giving during this month dates back to the 15th century. People believed that they should share the joy with family and friends since it is the month that marks the birth of Christ. Over the years, people have continued to give out gifts during this month since they still believe in the Christmas narrative. According to the narrative, Jesus was a gift from God to mankind.
Anyone can give this month despite their health and mobility limitations. That means your seniors in Marana can celebrate this month at home without worrying about interacting with COVID-19 patients. Here are some of the ways through which seniors in Tucson Southeast can celebrate this giving month.
1. Donating Blankets and Clothes
Homeless people need blankets and clothes to keep themselves warm. Therefore, encourage your seniors to donate blankets and clothes they no longer use. They can look for homeless charity organizations near them and drop off those items.
2. Offering Financial Support To The Less Fortunate
Encourage your seniors in Green Valley to support the less fortunate financially. Charity organizations need this support now more than ever. Whether seniors give out $1 or $1000, the money will help someone in need. The seniors can deposit the money into a charity account or give it to a charity organization themselves. They can also donate to an international charity to uphold human solidarity.
3. Sharing Their Skills
Are your senior loved ones in Oro Valley skilled in knitting, playing a musical instrument, or any other artistic practice? They can share these skills with other people. Video conferencing tools and social media can make it easy for them to pass this information to those who need it. That will give seniors a sense of purpose.
4. Teaching Children About Charity
Seniors in Oro Valley and Rita Ranch need to ensure that the next generation appreciates generosity, compassion, and kindness. That can be achieved through teaching children about charity. This is something that seniors in Rita Ranch can do during this giving month. They will not need to leave their houses or mingle with the children when doing so. Instead, they can do a  zoom call or use Google meet.
Conclusion
If you are looking for professionals to help you take care of your seniors around Green Valley, Oro Valley, Vail, Marana, Sahuarita, Rita Ranch, and Tucson Southeast, Senior Helpers of Tucson is here to help you. At Senior Helpers, we offer in-home care services for your elderly loved ones, we also assist them with daily activities such as meal preparation, laundry, and dressing. We also offer mental stimulation and companionship. Contact us now to know more about our services.