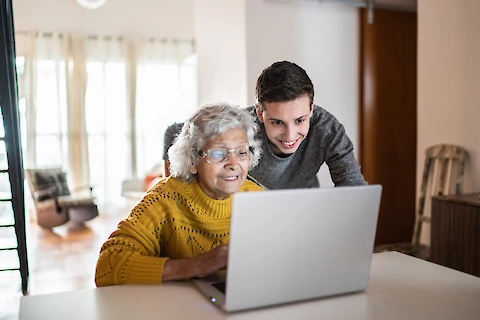 As our society becomes more digital, internet safety is crucial for everyone, especially for seniors, who live independently. Online scammers target seniors with unique threats that may compromise their online security. To protect our senior loved ones, family care providers need to step in and ensure that their senior family members understand the importance of online safety and know how to navigate the digital world securely. This blog post reviews common online scams targeting seniors and explains how to create secure passwords, adjust privacy settings, recognize phishing attempts and shop safely online. Our goal is to equip seniors with the necessary digital literacy skills to continue their tech-savvy journey without compromising their independence. 
Understanding the Digital World
With the abundance of online information, seniors may encounter various online threats. These may range from email scams to fraudulent websites. It's crucial for seniors living independently to stay informed about these potential risks. Knowledge provides power and acts as a shield, protecting them from falling into the trap of cybercriminals.
Practical Internet Safety Tips for Seniors
Take a look at the valuable suggestions below to help your senior loved one stay safe online:
One of the fundamental ways to stay safe on the internet involves using secure passwords. A strong password is the first defense against unauthorized access to personal information. Encourage your loved ones to use a mix of alphanumeric characters and avoid obvious choices like birthdays or names. Password managers may help with remembering these complex passwords.
Adjusting privacy settings further enhances online security. Most social media platforms and email services come with adjustable privacy settings. Guide your senior through these settings, ensuring that personal information is only visible to trusted individuals.
The common scam of phishing happens when the perpetrator disguises as a reliable source to get personal and financial information from the target. Emails and messages urging immediate action or requesting sensitive data are red flags. Teach your seniors to treat such communication with caution.
The popularity of online shopping, especially for seniors, comes with its own potential hazards. Make sure your loved ones stick with reputed e-commerce platforms and always look for the 'https' protocol in the website URL that signifies a secure shopping environment.
Empowering Seniors With Digital Literacy Skills
Empowering seniors with digital literacy skills enables them to live their digital life fully, thereby promoting independence. Going beyond teaching them to operate devices should help seniors understand internet etiquette, discern reliable sources from unreliable ones and gain proficiency in using various online services.
We Can Help
Internet safety is a vital skill for seniors living independently. By equipping them with knowledge about potential online threats and providing practical tips such as creating secure passwords, adjusting privacy settings, identifying phishing attempts and shopping securely online, we will help them safely navigate the digital world.
If you're living in Tucson Southeast, Green Valley, Vail, Sahuarita or Marana, and need further assistance in providing care for your independent-living seniors, Senior Helpers Tucson wants to help. Don't hesitate to contact us for additional support and resources. We'd love to discuss our many services for seniors and their caregivers.