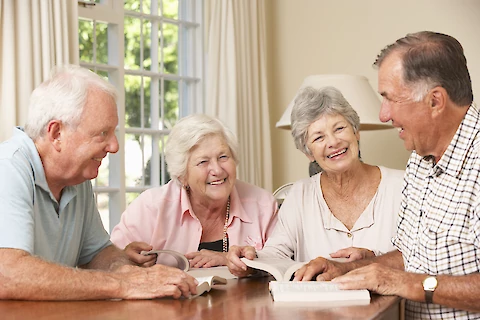 For senior citizens, reading becomes more than just a pastime. It sharpens the mind, keeps them engaged and even helps slow cognitive decline. However, for various reasons, many seniors need help making reading a regular routine. If you're a caregiver or relative of a senior who loves to read but struggles to incorporate it into their daily life, we're happy to offer a solution. At Senior Helpers Tucson, we believe that transforming reading into a social activity provides an effective way to rekindle their interest and make it a fixed routine. This blog post explores various ways to make reading a fun, communal activity for your senior loved one.
Benefits of Social Reading for Seniors 
Making reading a social activity brings several benefits:
Reading engages cognitive capacities, which helps improve memory and critical thinking skills.
It provides a platform for social interaction, reducing feelings of isolation that some seniors might experience.
Reading brings a sense of routine and purpose that greatly aids personal well-being.
Ways to Encourage Social Reading
Consider the suggestions below when helping your senior loved one get social benefits out of the joy of reading:
A great way to encourage social reading is through book clubs. These groups bring together individuals who read and discuss a particular book, providing intellectual stimulation and a social outlet. Look for local book clubs in community centers or libraries in Tucson Southeast, Green Valley and other mentioned areas. 
Virtual book clubs provide a convenient alternative for those who might find it difficult to commute.
Family reading sessions provide another engaging method to inspire seniors to read more. It involves setting aside a regular time when family members read together or share stories about what they've read. These sessions give families an excellent bonding activity that creates a comfortable and familiar environment for seniors to enjoy reading.
Another option is to participate in organized library activities. Public libraries often host events like book readings, author meet-and-greets or literary discussions. You may also find these types of events at local bookstores. These activities make reading a more dynamic experience and provide an opportunity to interact with other book lovers.
Finding Books of Interest
It's important that seniors read books that align with their interests. Whether it's a classic novel, a thrilling mystery or a historical non-fiction, a good book captivates and keeps seniors engaged. Visit local libraries in Oro Valley, Rita Ranch or Vail to find various popular books in different genres. Remember that the goal is to make reading enjoyable and not a chore.
We Can Help
Helping seniors make reading a social activity can open up a world of benefits, from cognitive improvement to increased social interaction. Not only does it help them cultivate healthy habits, but it also provides a sense of community. 
If you live in Tucson Southeast, Green Valley, Oro Valley, Rita Ranch or Vail, and you need extra support in encouraging your senior loved ones to adopt a reading habit, please feel free to contact us at Senior Helpers Tucson. We're here to support seniors and their caregivers. Ask us about our array of services like Companion Care and Respite Care. We'd love to talk with you today.