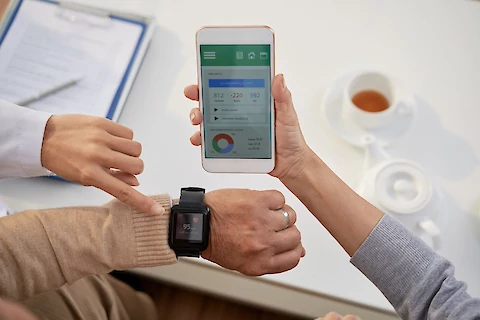 Smartphones have revolutionized the way many of us access information and manage our lives. Thousands of apps are available to manage health care, diet, exercise regimens, and more—all from a mobile device or computer. Senior citizens, who may find in-person management of their health overwhelming at times, can take advantage of technology that provides convenient and personalized help for managing both fitness goals and tracking existing health conditions. 
The Benefits of Smartphone Apps for Seniors
There are many potential benefits to seniors utilizing smartphone and app technology for health care purposes. 
Tracking diet and exercise: Smartphone and internet-based apps can help seniors track their goals with nutrition, weight loss, or fitness routines. By keeping count of every bite they eat or tracking each mile they walk, they can stay motivated while monitoring progress towards personal milestones. 
Tracking and monitoring health conditions: For those dealing with chronic illnesses such as diabetes, asthma, COPD, or heart disease, being able to track the symptoms on a daily basis over time can be invaluable for managing overall well-being. With an app, it is possible to coordinate medications more effectively by creating personalized reminders set at appropriate intervals throughout. Monitoring devices that connect to those apps can also prove helpful.
Access to health information: Apps can provide deeper insights into overall health and wellness, including information about the progression of seniors' symptoms over time. 
More information for doctors and care providers: Apps that upload data directly onto digital medical records make it easier for clinicians treating elderly patients. Doctors may also refer back to health data to help with ongoing treatment efforts. 
Popular Smartphone Apps for Seniors
Among the many apps available to help seniors manage their health and wellness, here are some of the most popular. 
Does Your Loved One Need More Help Than an App Can Provide?
An app can provide a great deal of monitoring and support for many seniors. Unfortunately, sometimes, seniors may need more support than an app alone can provide. An in-home caregiver can issue reminders that an app might not provide or monitor symptoms that an app might not notice. For seniors living in Hot Springs Village, Garland, Montgomery, Hot Springs, Clark, and Saline County, Senior Helpers Hot Springs can provide those services. Contact us today to learn more about our in-home care options.