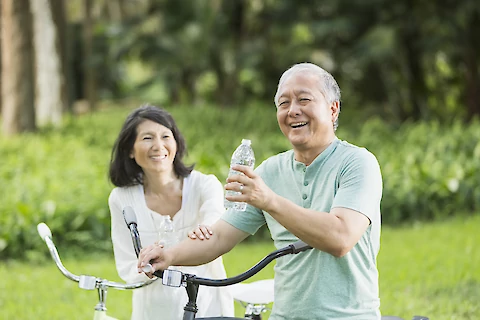 As warmer weather rolls in, caregivers want to make sure their senior loved ones are comfortable, safe, and able to enjoy the sunny days ahead. Navigating the challenges of the hot summer months can be as simple as following a few key tips. In this Senior Helpers blog post, we provide valuable advice and strategies on how to help seniors adapt to warmer weather so they can enjoy the sunny season. 
1. Take Advantage of Air Conditioning
Preventing heat-related illnesses is a top priority when caring for seniors during warmer weather. Seniors are more susceptible to conditions like heat stroke, heat exhaustion, and dehydration. It is important to take the necessary precautions to prevent these conditions. One way to do this is for seniors to spend time in air-conditioned spaces during peak heat hours. When air conditioning isn't available, utilizing fans, taking cool showers, or applying cold compresses can help seniors stay cool and reduce the risk of heat-related illnesses. 
2. Stay Properly Hydrated
Proper hydration is another essential factor in keeping seniors safe and comfortable during hot weather. Encourage your senior loved ones to drink more water throughout the day. This can be achieved by setting reminders, offering flavored water options, or using a marked water bottle to keep track of intake. Be vigilant for signs of dehydration, including dark urine, dry mouth, and dizziness. Seek medical attention if these symptoms persist.
3. Adjust Clothing Choices
Clothing choices can make all the difference in helping seniors stay cool and comfortable during the summer months. Opt for lightweight, breathable fabrics and light-colored clothing to help reflect sunlight and keep body temperatures down. Additionally, it's important to protect seniors from sun exposure by providing them with hats, sunglasses, and sunscreen. Encouraging your senior relatives to wear these items when outdoors can significantly reduce the risk of sunburn and heat-related illnesses.
4. Be Smart With Outdoor Activities
While staying inside during a heatwave may be tempting, engaging in appropriate outdoor activities can benefit seniors' physical and mental health. Activities like walking, gardening, or swimming can provide low-impact exercise opportunities and help seniors enjoy the outdoors. Staying in shaded areas, taking frequent breaks, and wearing appropriate footwear make participating in these activities safer for the seniors in your care. Involve yourself in these activities to promote social interaction and bonding with your senior relatives.
5. Be Aware of How Seniors Are Coping With the Heat
Beyond these practical strategies, it is important to be aware of how your senior loved ones are coping with the hot weather. Monitor them for signs of heat-related illnesses, like confusion, dizziness, or nausea, and seek medical attention if necessary. Encourage your senior relatives to stay connected with others throughout the summer months. Attending community events, joining social clubs, or visiting with friends and family can significantly impact their well-being during hot weather.
6. Check-In Regularly
Checking in on your senior relatives regularly during hot weather is always a good idea. A simple phone call, text, or visit can provide welcome peace of mind and an opportunity to assess their well-being. If you notice any concerns or issues, don't hesitate to take action and ensure the appropriate steps are taken to keep your senior loved ones safe and comfortable during the summer months.
We Help Seniors Cope With Warmer Weather
Senior Helpers Hot Springs is your number one resource for quality, in-home senior care. Our comprehensive services cover a wide range of customized assistance, including companion care. If you live in Hot Springs Village, Garland, Montgomery, Hot Springs, Clark, or Saline County and need assistance caring for your senior loved one during the summer months, contact us for professional and compassionate care.