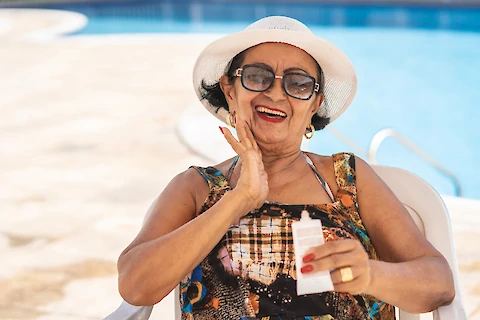 Spending time outdoors with our senior loved ones as the warmer weather arrives can be both enjoyable and beneficial for their overall well-being. However, it is smart to keep sun safety in mind to protect their delicate skin and ensure their health isn't compromised. This Senior Helpers blog post provides a helpful guide tailored specifically to older adults. We offer insights on how you can make the most of your time together under the sun while maintaining the safety and comfort of the seniors you care for.
Sunscreen Application
One of the simplest and most important aspects of sun safety is applying sunscreen to protect your senior loved one's skin from harmful ultraviolet (UV) rays. Choose a sunscreen product offering SPF 30 or higher, broad-spectrum protection (meaning it shields against UVA and UVB rays), and water-resistant properties. Sunscreen should be applied generously about 15 minutes before sun exposure, with reapplication occurring every two hours or immediately after swimming or sweating. Don't forget to protect often-missed spots like ears, the back of hands, and exposed areas of the scalp.
Staying Hydrated
Older adults are more susceptible to dehydration, making it essential to monitor their water intake during the warm months, especially when outdoors. Make sure seniors have access to water at all times, whether through a water bottle or by offering a drink regularly. Encourage them to drink even if they don't feel thirsty, as thirst may not always accurately indicate their hydration status. Keep an eye out for signs of dehydration, including a dry mouth, fatigue, or dark-colored urine. If you notice any of these symptoms, prompt them to drink more water and consider seeking medical attention if the issue persists.
Appropriate Clothing Choices
Dressing your senior loved one inappropriate clothing can significantly enhance their sun protection. Opt for light-colored, breathable fabrics that deflect sunlight and heat while still providing ample coverage. Long sleeves and pants made of lightweight materials provide added sun protection without necessarily causing overheating. A wide-brimmed hat and sunglasses with UV protection will shield their face, head, and eyes from direct sunlight, further reducing the risk of sunburn and related health complications.
Taking Breaks in the Shade
Taking regular breaks from sun exposure minimizes the risks associated with prolonged sunlight, like sunburn or overheating. Seek out shady areas when spending time outdoors and encourage seniors to rest and relax during these breaks. If natural shade is limited, consider bringing along an umbrella or portable shade structure to create a shaded spot for them. These necessary breaks will help prevent exhaustion, dehydration, and the health risks associated with excessive sun exposure.
Adapting Outdoor Activities According to Weather Conditions
It is a good idea to consider the time of day and weather conditions when planning outdoor activities with your senior loved one. Avoid spending extended periods outdoors during peak sun hours, typically between 10 am and 4 pm, when UV radiation is at its highest. Instead, plan activities for the early morning or late afternoon when temperatures are cooler and less harmful. Monitor local weather forecasts and pay close attention to extreme heat or UV index warnings. That way, you can adjust your plans accordingly to protect your senior relative from potential harm.
Let Us Help You Keep Sun Safety in Mind
Senior Helpers provides personalized, in-home senior care for you and those you love. Our comprehensive services cover a wide range of senior assistance so you can enjoy the peace of mind you and your family deserve. If you are located in Hot Springs Village, Garland, Montgomery, Hot Springs, Clark, or Saline County and need additional support and care for your senior loved one, consider Senior Helpers Hot Springs. Our team of dedicated professionals is here to assist you in promoting the health and well-being of the seniors you love. Contact us to learn more about our services.