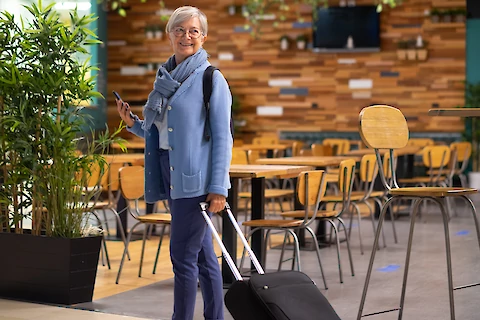 Summer vacations are a special time for creating memories and exploring new places. For seniors, these trips are a well-deserved break and an opportunity to reconnect with loved ones and enjoy life to the fullest. However, planning a vacation as a senior might have unique challenges, like health concerns and accessibility needs. Here are some practical tips tailored just for them, ensuring their adventures are safe, enjoyable, and unforgettable.
Health Precautions
Health is a top priority when planning a trip, especially for seniors. Before diving into your vacation details, discuss any medical conditions that could affect your travels with your doctor. They can also advise on necessary vaccinations and prescribe medications for your journey. Pack a medical kit with prescription medications, over-the-counter remedies, and first-aid supplies. Remember to stay hydrated and eat healthily on vacation, as this will keep your energy levels up and help you enjoy your activities. Purchasing travel insurance that covers medical emergencies can provide peace of mind.
Packing Essentials
Go for lightweight luggage with wheels for easier navigation through airports and hotels when packing. If needed, bring a travel-sized mobility aid, like a collapsible cane or walker. Wear comfortable clothing and shoes, and pack essential documents, such as your ID, insurance information, and emergency contact details. A spare pair of glasses and a list of your medications may be lifesavers in an emergency.
Book Appropriate Accommodations
The right accommodations can significantly impact your trip. Look for senior-friendly hotels or vacation rentals with accessibility features like elevators and ramps, and ask about on-site medical facilities or nearby hospitals. Booking a room close to popular attractions or transportation hubs can minimize extensive travel within your destination. Request a room on the ground floor or near the elevator if needed.
Activities Designed for Seniors
Find activities that cater to your unique needs and interests. Research senior-friendly attractions, like guided tours, museums, and cultural events, and take advantage of any senior discounts or special programs. Plan your itinerary with enough rest time between activities, and avoid overexerting yourself. Group tours or traveling with friends and family can offer extra support and camaraderie.
Remain Safe Throughout Your Travels
Safety is critical when traveling, especially during uncertain times. Stay informed about travel advisories and COVID-19 guidelines, and practice good hygiene and social distancing while traveling. Use technology to stay connected with loved ones and share your location, ensuring someone always knows where you are. For U.S. citizens traveling abroad, registering with the Smart Traveler Enrollment Program (STEP) can provide additional security and assistance in emergencies.
Final Tips for Traveling as a Senior
When choosing your summer vacation destination, research multiple locations, read reviews from other senior travelers, and consult with a travel agent specializing in senior travel. Local senior centers or community groups may also provide valuable recommendations and advice.
Senior Helpers Fort Smith Provides Support for Seniors
Planning and preparing for a summer vacation can make all the difference for seniors looking to have a safe, fulfilling, and memorable experience. By following these tips, you can confidently embark on your next adventure, knowing that you've taken every necessary step to ensure a fantastic trip.
Senior Helpers Fort Smith is ready to support and assist with all your senior care and companionship needs for seniors living in Ozark, Sebastian, Crawford, Franklin, Logan, and Scott counties. Contact us today to learn more about our services and how we can help make your summer memorable.