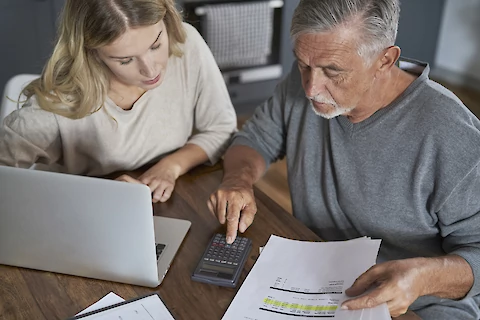 Caring for an elderly relative can be a rewarding experience, but it can also be financially challenging. The cost of caretaking increases as the health conditions and age of an elderly loved one progresses. This may present reasons to start reconsidering your finances when caring for seniors.
Fortunately, there are several strategies you can use to adapt your budget and improve your ability to care for elderly loved ones.
Why You May Need to Start Reconsidering Your Finances When Caring for Seniors
As an elderly loved one's health and age progress, their needs for care typically increases. In addition to traditional medical appointments, therapies, and medications that may be needed on a regular basis, seniors may have a number of other potential needs, including:
In-home care
Home modifications
Assistive devices
Technology assistance
Typically, such an increased need for elder care is accompanied by a rise in financial cost. Many senior care services have also increased significantly in cost in recent years, putting further strain on caregivers. Thus, it becomes essential to manage your finances carefully. This way, you can ensure the best quality of life possible for them while still being mindful of your own needs too.
How to "Retool" Your Budget
There are several steps you can take to start reconsidering your finances when caring for seniors. These steps can also ensure that you meet the current needs of your whole family.
Evaluate the Cost of Care
The first step in "retooling" your budget is to evaluate the cost of care for an elderly relative. Consider what care services your loved one actually needs and their likely costs. You can work with professionals to help evaluate those costs and get averages of what you can expect to spend.
Identify Potential Sources of Financial Assistance
It's important to explore all possible financial assistance options available when it comes to senior caregiving services and supplies. Many states offer programs specifically designed to assist caregivers with the associated costs. Other resources may also be available in the form of foundations and charities. Be sure to research these sources thoroughly before making any decisions so that you are not overlooking potential opportunities for assistance.
Look for Places to Cut Costs in Other Areas
You may have to make some sacrifices elsewhere if there isn't sufficient money coming in for senior care expenses each month. Prioritize essential spending and look out for places where savings can be made. This can include cutting down on luxury items to switching electricity providers.
Small changes can add up over time. You may also want to look for areas in which you can cut back on overall spending so that you have more money to allocate to senior care needs.
Shop Around for the Best Prices
Don't just settle for one particular vendor without thorough comparison, especially when purchasing medical devices or supplies. Make sure you have a solid idea of what each type of care will cost and what long-term commitments will look like.
Plan and Prioritize Based on Care Needs
Sometimes, you may have to make decisions about the type of care you choose for a senior based on priorities. Ensuring that your loved one has the right medications, for example, may be more important than modifying your home for better mobility, especially in the short term.
Do You Need More Help Caring for a Senior Loved One?
As care needs grow, you may find that you need more in-home care and support for your elderly loved one. At Senior Helpers Huntsville, we provide in-home assistance for seniors in Huntsville, Madison, Meridianville, Hazel Green, Harvest, Toney, Owens Cross Roads, New Market, and Brownsboro.
Contact us to discuss your budget and the options that are available for helping you care for a senior loved one.