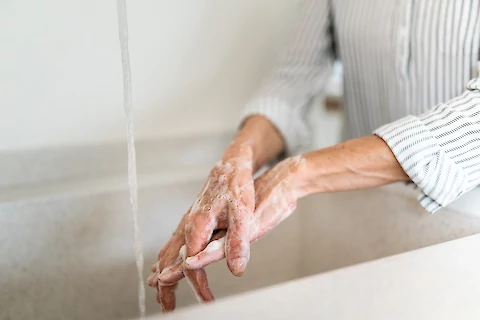 Effective hand hygiene techniques are key to keeping seniors healthy, especially during cold and flu season. Hand hygiene is the process of keeping the hands clean and free from bacteria, germs, viruses, or any other contagious diseases.
In fact, germs can spread from person to person or from surface to person in various ways. These include when you touch your eyes, nose, and mouth; prepare or eat food, touch surfaces with germs, or cough or sneeze into your hands and then touch other people or things.
Good hand hygiene techniques can help prevent the spread of germs and protect seniors who may have preexisting health conditions or be more susceptible to colds and the flu.
Read on to learn more about basic hand hygiene techniques that will keep you and your senior loved ones healthy.
Hand Washing
The simplest and best way to reduce the spread of germs from the hands is through frequent and proper handwashing. Use antibacterial soap and warm water, and rub the palms together for at least 20 seconds to ensure that any germs are being cleaned off. Sing "Happy Birthday" to yourself to make sure you rub for a full 20 seconds. Ensure you thoroughly wash around each finger and fingernail and use a towel or napkin to turn off the faucet.
Most people feel surprised to learn how often they should wash their hands to practice good hand hygiene. Seniors, their family, and caregivers should wash their hands both before and after preparing or eating food, as well as after going to the bathroom or caring for someone who is sick. Even if you blow your nose or cough into a napkin or handkerchief, be sure to wash your hands!
Pets can also be potential sources of germs. So it's important to wash your hands after touching an animal, handling pet food, or cleaning up animal waste.
Using Hand Sanitizer
In some cases where soap and water are not available, hand sanitizers can be used. However, it's important to note that hand sanitizers are not as effective at killing certain viruses. When using hand sanitizer, make sure you spread it around to cover all surfaces of your hand. Rub the sanitizer in vigorously, as though you were washing your hands.
Senior Helpers Offers Personalized In-Home Care Services
Proper hand hygiene techniques are crucial for keeping your loved ones healthy this cold and flu season. Encourage seniors to wash their hands regularly, using warm water and soap for 20 seconds. Be sure they also wash their hands after dealing with pets, caring for a family member, or when preparing food.
If you want to learn about in-home caregiving services to further support seniors during this cold and flu season, Senior Helpers of Huntsville can help. We offer professional caregiving services to seniors in and around the Huntsville, Madison, Meridianville, Hazel Green, Harvest, Toney, Owens Cross Roads, New Market, and Brownsboro areas. Contact us today to learn more about our services.