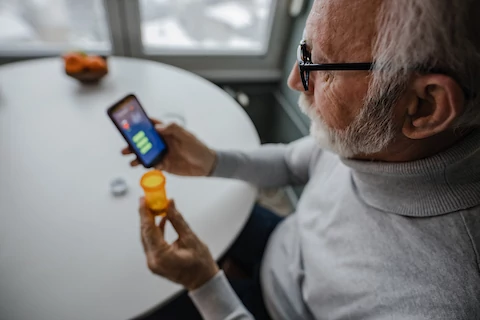 Medication tracking can feel daunting when helping provide care for a senior loved one, but technology can help. In this article, we'll discuss three popular medication-tracking apps available that seniors and their family members can use to keep close track of medication schedules.
How Do Medication-Tracking Apps Work?
Medication-tracking apps use a simple dashboard or app interface to display information about timing, dosage, and refills in an easy-to-use format. To ensure that the data is secure, most apps have user authentication procedures like passwords before you can access any information on the app.
The strength of these apps is that they both simplify the tracking process and prevent potential mistakes with medication. For example, the app can tell family members and caregivers if dosages have changed since the last treatment plan update came through.
The Best Mediation-Tracking Apps
A few key features make the best medication apps more accessible and easier to use than the rest. It must be easy to record medications and enter them into the app properly. If the app has pictures of the medication, that's even better because it prevents potential mistakes. Times should be easy to enter, and the best apps will auto-adjust future times if a pill is taken late.
Apps should have clear drug warnings and be able to provide accurate, clear information about each medication. Finally, it should allow caregivers or loved ones to also track medication from their devices.
Medisafe
Medisafe meets all the "minimum requirements" we mentioned before. Better yet, it makes entering prescriptions a complete breeze. The app auto-completes drug names as you enter them, and if you get prescriptions at several major pharmacies (including CVS, Walgreens, and Rite Aid), the app will import the medications directly.
Medication-tracking apps should include information on each drug, and Medisafe includes videos - easier to follow than a page of text - for 85% of all prescriptions. The videos include instructions for taking the drug and potential side effects.
Care4Today
Care4Today has an especially clean visual interface. The app color codes medications by urgency, and includes interaction warnings and pictures of each drug. Where Care4Today really shines is in the way it displays data about your loved one's adherence. Weekly graphs and percentage scores make it easy to see how well medication management is going for your loved one.
Pillboxie
This app is particularly simple and has large, clear, attractive graphics. The graphics feature a pill box on the screen that users interact with to schedule and take doses of medication. People who have difficulty deciphering large blocks of text on small screens will appreciate Pillboxie's large graphics. Pillboxie also has great help screens in case a senior gets lost while using the technology.
Senior Helpers Offers Personalized Care Services for Medication Tracking
Choosing the right app to help with medication tracking can go a long way to supporting your loved one's care. The best apps have easy data entry, features that aid accessibility (like large graphics), and clear, accurate information about each drug.
If you or your loved one need help establishing good medication tracking, contact Senior Helpers Huntsville today. We proudly provide professional caregiving services for seniors in and around the Huntsville, Madison, Meridianville, Hazel Green, Harvest, Toney, Owens Cross Roads, New Market, and Brownsboro areas.