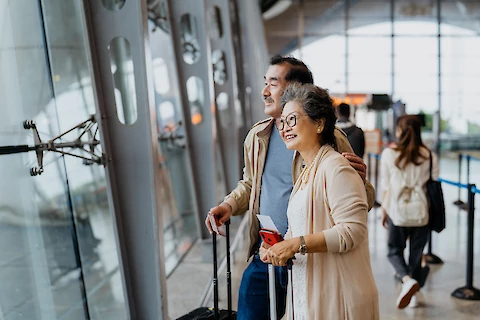 Traveling by plane can be an exciting and efficient way to explore new destinations or visit loved ones. However, for seniors who may not frequently fly, navigating the ever-changing airport security practices can be quite challenging. Staying up-to-date on the latest regulations is essential to ensure a smooth and hassle-free travel experience.
Let's take a look at some helpful resources and tips to stay current on airport security practices, so seniors can confidently embark on their next adventure. Fasten your seatbelts and let's get started!
Resources for Staying Current on Airport Security Practices
One of the best resources to stay informed about airport security practices is the Transportation Security Administration (TSA) website. The TSA is responsible for safeguarding our nation's transportation systems, and its website provides up-to-date information on security procedures and requirements. The TSA offers specific guidelines for seniors and individuals with disabilities, ensuring their travel experience is as smooth as possible.
Another useful program to consider is TSA PreCheck. This program offers an expedited security screening process for eligible travelers, significantly reducing the time spent waiting in line at the airport. With a simple application and a one-time fee, seniors can enjoy the benefits of TSA PreCheck for five years.
Stay Informed Through Email Updates and Alerts
Signing up for TSA email notifications is another great way to stay updated on the latest security procedures and changes. Seniors can receive regular updates with tips for a smooth travel experience, ensuring they're always prepared for their next trip.
Following preferred airports and airlines on social media platforms like Facebook and Twitter can also keep seniors informed about real-time updates on security measures and potential delays. Plus, seniors can easily ask questions and receive assistance from customer service representatives through these channels.
Utilize Mobile Apps for Travel Planning and Security Information
In today's digital age, mobile apps are incredibly helpful in keeping people informed and organized while traveling. The TSA Mobile App, for instance, offers seniors the ability to access security information and guidelines on the go. By downloading and utilizing this app, seniors can have all the necessary information at their fingertips.
Many airlines and airports have their own mobile apps that provide personalized travel information and updates. These apps can assist seniors in navigating airports, managing their travel itinerary, and staying informed about security checkpoints.
Prepare for Airport Security in Advance
Before seniors set off on their trip, they should pack their luggage according to TSA guidelines. Be mindful of restrictions on liquids, gels, and aerosols, as well as any prohibited items. Packing wisely will minimize any hassles during security screening.
Be sure seniors have the proper identification and travel documents. Be aware of the REAL ID requirements and deadlines, as well as any necessary passports or other acceptable forms of identification.
Seek Assistance From Airport Staff and Security Personnel
Don't hesitate to ask for help. If seniors require a wheelchair or mobility assistance, make sure to arrange for help in advance, and inform the staff about their needs at each stage of their journey.
If seniors have medical conditions or special needs that require attention during security screening, communicate with TSA officers about their medical devices and medications. Request a private screening if seniors feel more comfortable doing so.
We Can Help!
Staying informed and prepared for airport security is essential for a stress-free travel experience as a senior traveler. By using the resources and tips we've shared in this blog post, seniors can confidently navigate airport security and enjoy their time in the skies.
If you're a senior living in Huntsville, Madison, Meridianville, Harvest, Toney, and the surrounding areas, and need a little help getting ready for a trip or any other activity, contact us at Senior Helpers Huntsville for assistance. Our professionals are here to assist seniors with day-to-day tasks, whether they be focused on routine self-care or packing for a grand tour. Safe travels and bon voyage!