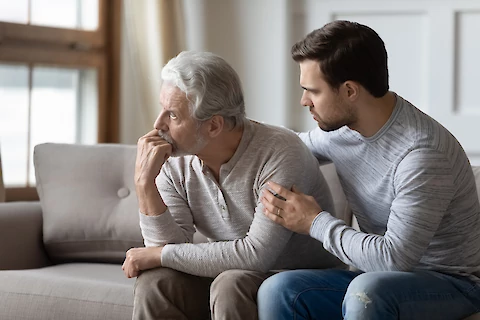 It's no secret that seniors face unique challenges when it comes to their mental health and well-being. With age comes its own set of struggles that can take a toll on an individual's mental state, such as social isolation, feelings of loneliness and depression, and difficulty adapting to physical changes. As an in-home senior care company in the Kenai Peninsula area, we understand how important it is to support seniors and make sure they have the proper resources to stay healthy and happy. Learning ways to best support your loved one is key.
Signs of Mental Health Struggles in Seniors
Start by learning how to recognize some common signs of mental health struggles. As soon as you notice any changes in your loved one's behavior, make an effort to address it and help them find better ways to cope. 
Look out for:
Withdrawal from activities and social events 
A depressed or anxious appearance
Significant irritation with people or surroundings
Difficulty sleeping 
Changes in appetite 
Difficulty with decision-making 
Any unusual or erratic behavior 
How to Help Seniors Struggling with Mental Health
If you notice any of the signs mentioned above, here are some ways you can offer help:
Help Establish a Routine
Creating a sense of structure and routine can be a great way to help seniors stay mentally healthy. Make sure to establish specific guidelines and routines that are age-appropriate and motivating. For example, encourage seniors to set goals for the day and keep track of progress, such as using their leisure time to read a particular number of pages. Regularly scheduled activities, like yoga or water aerobics, can also help seniors maintain a sense of purpose and improve their mental health.
Encourage Physical Activity
Physical activity is one of the best ways to help support seniors' mental health. Following the advice of their doctor, exercise can help seniors stay healthy and improve their mood while having a positive impact on their overall well-being. Encourage seniors to take part in activities that they find enjoyable, such as going for walks or taking part in chair exercises.
Join a Support Group
Seniors can benefit from joining a support group that provides comfort and understanding in times of need. The group can serve as a safe space to discuss struggles, share stories, and make connections with other seniors. There are a number of support groups available that cater to seniors in the Kenai Peninsula and nearby. 
Bond Through Meaningful Activities 
Quality time with family and friends can also work wonders for seniors' mental health. Spend time engaging in meaningful activities with your loved one, such as playing board games, watching movies, or taking part in outdoor activities. These activities can provide an opportunity to bond and help seniors stay connected to the people they love.
Work with Senior Helpers of the Kenai Peninsula
Mental health is an important part of overall health, and it's important to support seniors in any way that we can. At Senior Helpers of the Kenai Peninsula, we strive to provide superior senior care in Soldotna, Seldovia, Ninilchik, Anchor Point, Homer, Anchorage, Kenai, Kenai Peninsula, Kaslof, and Moose Pass. If you're looking for a caregiver for a senior loved one or need further guidance on helping boost their mental well-being, don't hesitate to contact us today.