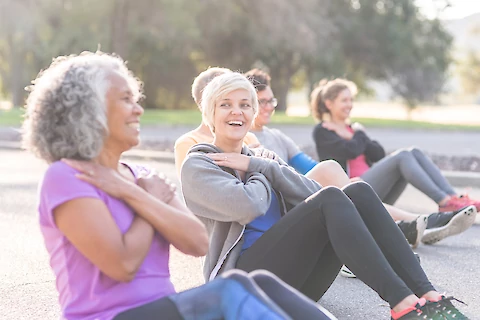 Are you looking to be a part of a multi-generational fitness group that can help you build a healthy lifestyle routine? The benefits of cross-generation bonding through exercise are immense. With some tips to get started and advice on how to make the most of the workout, you have an even better chance of benefiting from each session. 
Benefits of Cross-generational Bonding
Creating a multi-generational fitness group can be beneficial for both seniors and caregivers in many ways. These benefits include: 
Greater Variety of Exercise Options
Having a variety of people in the group provides a greater range of exercise options to try. Whether it's yoga, strength training, or some form of aerobic activity, the group will be able to find something for everyone. 
Mental Health and Social Interaction 
Cross-generational bonding can help seniors and caregivers alike stay connected and engaged. On top of that, having the chance to get physical and mental health benefits from the group also provides a great social outlet for all involved. Caregivers can interact with others closer to their age while their senior companion can also be in the company of people in their age range. 
Improved Physical Well-being
Being part of any fitness group can provide both seniors and caregivers with improved physical well-being. The more you exercise, the more strength and stamina you can gain. This leads to a healthier lifestyle overall. 
How to Find a Multi-generational Fitness Group
When it comes to finding the perfect multi-generational fitness group for you, there are a few steps you'll need to take. These include: 
Asking Friends or Family 
If you know anyone who is already part of a multi-generational fitness group, be sure to ask them for advice. Not only will this provide you with insight into which group is the best fit for you, but it'll also save you time and energy in your search. 
Checking Local Gyms and Fitness Centers
If you've exhausted your search for existing groups, it may be worth looking into local gyms and fitness centers that may offer the type of fitness classes you're after. These groups will likely be more professional and well-structured, so be sure to ask any questions you may have before committing. 
Looking for Community Programs
You may want to also consider looking for any existing community programs that offer multi-generational fitness groups. Oftentimes, these groups are offered for free or for a low cost, so be sure to explore your local area for any available resources. 
Utilizing Social Media Platforms
Lastly, don't forget to take advantage of social media platforms like Facebook, Twitter, and Instagram to help you in your search. With so many people connected through these channels, you can easily find like-minded individuals who are interested in joining a group. If there isn't already a group available, you can take the chance to make one!
Tips for Making the Most Out of the Group
Once you've managed to find a multi-generational fitness group that fits your needs, there are a few tips you'll want to keep in mind to make the most out of it. Be sure to:
Ask questions: This will help ensure that everyone in the group has a clear understanding of the goals and expectations. 
Establish goals: Brainstorming and setting collective goals for the group can help keep everyone motivated and on track. 
Respect differences: Be sure to respect the members' differences and work together to find mutually beneficial solutions. 
Share success: Celebrate each other's successes and share the joy of any accomplishments. This will help foster an even stronger bond within the group. 
Connect with Senior Helpers of the Kenai Peninsula
If you're looking for more information or would like to learn more about Senior Helpers of the Kenai Peninsula and our in-home senior care services in Ninilchik, Soldotna, Anchorage, Anchor Point, Kenai, Homer, Kenai Peninsula, Kaslof, Moose Pass, and Seldovia, please feel free to contact us! We can help connect you with additional resources or assist you on your journey toward achieving better health.