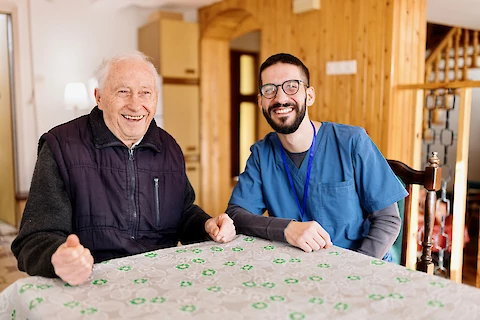 Finding the right care for your senior loved one is no easy task. You want to ensure they receive the best possible support, but suddenly, you find yourself navigating unfamiliar territory with different types of care services on offer. One question we often hear is: What's the difference between companion care and conventional caregiving? Well, you're in the right place to get some answers! 
In this blog post, we'll delve into the specifics of these two types of care, comparing them side-by-side so you can make an informed decision about what best suits your loved one's needs. Remember, there's no "one-size-fits-all." Each situation is unique and deserves careful thought. So, let's begin our journey into understanding companion care and conventional caregiving better.
Understanding Companion Care
When we talk about companion care, we refer to a service that primarily provides emotional support and companionship. It's ideal for seniors who are healthy enough to remain independent at home. Companion caregivers may assist in tasks such as meal preparation, light housekeeping, shopping, and even entertainment activities. The key benefit here is that companion care can alleviate loneliness and provide a level of social interaction that's crucial for seniors' well-being. However, it's important to note that these caregivers are generally not qualified to provide health-related services.
Understanding Conventional Caregiving
On the other hand, conventional caregiving, also known as personal care or home health care, involves more complex duties. In addition to the assistance provided by companion care, conventional caregivers often help with activities of daily living (ADLs) like bathing, dressing, toileting, and even medication management. These caregivers usually have higher qualifications and can assist seniors with more severe health conditions. The most significant advantage of this type of care is the comprehensive support it provides. However, it might be more than is necessary for seniors who are still relatively independent and healthy.
Key Differences
Let's talk about some of the key differences. The level of medical assistance is the primary distinction. Companion care is perfect for seniors who are essentially healthy but could use assistance with day-to-day tasks and social interaction. Conventional care is more suitable for those with significant health issues or ADL challenges. The costs can also be different, with conventional care generally being more expensive due to the higher level of care provided.
Evaluate Your Loved One's Needs
When it comes to comparing companion care and conventional caregiving, it's not about which type is "better." It's about evaluating your loved one's particular situation to choose the most suitable option. Consider the senior's medical needs, emotional and social requisites, your budget, and the availability of family to provide support. 
Both companion care and conventional caregiving have their merits. Your decision should be based on the unique needs and situation of your loved one. Need some more guidance? Don't hesitate to contact us today. If you're in Anchorage, Moose Pass, Kenai, Soldotna, or Homer, our team at Senior Helpers of the Kenai Peninsula is ready to help you navigate this crucial decision for your loved one's well-being. We're here to ensure you have all the information you need to make the best choice for the senior in your life.