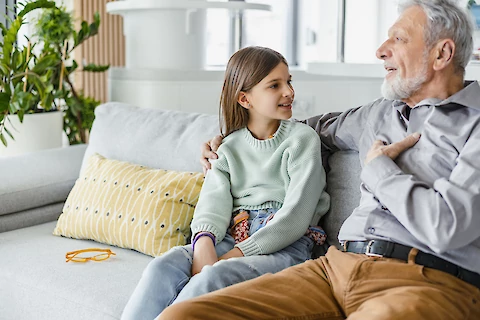 Did you know that sharing memories with friends and family is beneficial for a senior's mental wellness? This article will explore the benefits of reminiscing together, the positive effects it has on memory retention, and provide practical tips for a delightful storytelling experience. Read on to learn more.
The Benefits of Sharing Stories
When seniors share their history through storytelling, it brings a host of benefits for their cognitive health. When seniors reminisce, they experience increased social engagement, which is crucial for maintaining cognitive health. Conversations about the past also strengthen their sense of identity, fostering a sense of belonging and purpose. Reminiscing can improve mood and overall well-being, as recalling fond memories often brings joy and happiness. 
Inspiration for Engaging in Shared Storytelling Sessions
To make the most of the storytelling sessions, follow these five practical tips:
Create a comfortable environment: Find a cozy, quiet spot where your senior loved one feels at ease and can focus on the conversation without distractions.
Encourage sharing: Gently prompt the senior to share stories from their past, personal experiences, and family history. It's important to be patient and give them the time and space to recall their memories.
Engage in the conversation: Actively listen to their stories and ask open-ended questions to encourage further sharing. Show genuine interest in what they have to say, as this will make them feel valued and motivated to share more.
Use memory aids: Photos, keepsakes, and other tangible items can help spark memories and facilitate storytelling. Browsing through a photo album or going through old belongings together can bring up a wellspring of stories to talk about.
Record the stories: Consider recording the storytelling sessions to create a lasting memory for your family. This not only preserves the stories for future generations but also serves as a valuable tool for seniors to revisit their memories over time.
Make Storytelling Part of Daily Life
The more the senior is encouraged to share, the more comfortable they'll be when telling their stories. Strive to make storytelling part of their daily routine and integrate it into social and therapeutic engagements. Support groups, civic groups, and veterans' organizations, as well as senior centers, are usually welcoming to storytelling activities. 
We're Great Listeners!
By taking the time to reminisce together, you not only support your elder's mental well-being but also create a special bond between you and your senior loved one. Remember to create a comfortable environment, engage in the conversation, and use memory aids to encourage more sharing.
Does your favorite senior need assistance with daily tasks? Would they benefit from friendly drop-in visits and a compassionate ear? If you have a senior loved one in Anchorage, Homer, Kasilof, Moose Pass, or Ninilchik, Senior Helpers of the Kenai Peninsula is here to provide the in-home support and companionship needed for a healthy and fulfilling life. Contact us today to learn more about our extensive caregiving services and discover how we can help your senior loved one maintain their independence, social connections, and overall wellness.