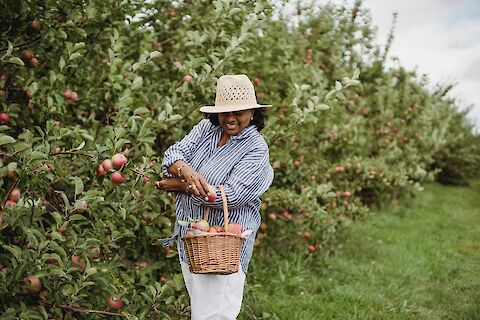 Tips for Finding the Best Local Fall Activities in Appleton
Looking for some fun fall activities? There are many things to do as the leaves change and the weather gets colder. This colorful season is the perfect time to make new memories and even recreate old traditions. Senior Helpers of Appleton is here to give you all the details for finding the best local fall activities in the area!
Appleton, Wisconsin is the perfect place to immerse yourself in the fall season by visiting local trails, orchards, farm markets, and pumpkin patches! Here is our list of best activities that you can find on Fox Cities' local website!
1. Enjoy a walk to the farmer's markets.
On Saturdays until October 30th, the U.S. Venture Farm Market is held from 8 a.m. to 12:30 p.m. This is the perfect time to pick up some fresh veggies, fruits, meats, cheeses, and more! There's always live music and handcrafted items for you to enjoy while strolling College Avenue.
2. Pick out the best pumpkin and squash at pumpkin patches.
Mulberry Lane Farm is all about farm life on a 125-acre working farm with picking your own pumpkins until October 31st! They provide the best first-hand experience by allowing you to touch, feed, and encounter some incredible animals up close.
3. Enjoy the wide variety of apples at an orchard.
At Hofacker's Hillside Orchard, LLC, there are some fun activities to partake in that include a corn maze, pumpkin patch, haymow zipline, and even an orchard store. This is something you don't want to miss if you want the full fall experience!
4. Take a hike to enjoy the beautiful landscapes of Wisconsin.
With trails for any skill level, High Cliff State Park is open year-round to allow you to enjoy the fall breeze. The most breathtaking sights are when the leaves begin to change color. Some recreation opportunities include biking, camping, boating, fishing, hiking, and even horseback riding!
In Appleton, there are many activities to enjoy with your family while staying safe. At Senior Helpers, we are committed to providing tailored home care services to support aging-in-place. Some of https://www.seniorhelpers.com/wi/appleton/services/our services include companion care, Parkinson's care, respite care, wellness watch, and personal care. If you or a loved one are looking into home care providers, then look no further because Senior Helpers of Appleton is here to provide the best in-home care for seniors while maintaining their independence. For more information, visit our website and contact us today for our services.