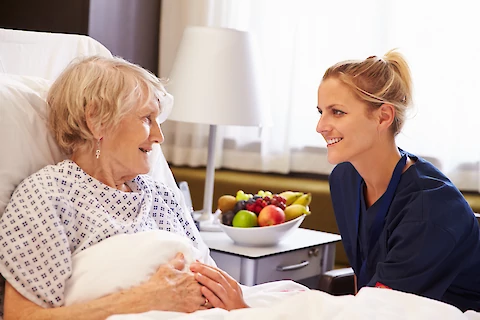 Transitional Care: Making a Smooth Transition From Hospital to Home
Transitional care is all about planning. According to the NCBI, 20% of elderly patients end up back in the hospital within 30 days due to complications at home. If your loved one wishes to age in place, recovering in the comfort of their own home, it is essential that they work with hospital staff to develop the safest discharge plan possible. That's why Richmond, Midlothian, and the surrounding areas rely on Senior Helpers for transitional care services in Chesterfield County.
Start With a Plan
The most important part of the process begins before your loved one ever leaves the hospital. It is up to the hospital staff to work in conjunction with you and your family to make all reasonable accommodations necessary to ensure the discharge happens safely.
People involved with the discharge process include:
The attending physician

Therapists

A hospital social worker

The patient

The patient's family
A safe plan of discharge should contain simple, written instructions that address any ongoing medical care your loved needs, a list of their medications, specialist referrals, a way to secure necessary durable medical equipment, transportation considerations, and referrals for live-in home care if necessary.
Gather Your Resources
Your loved one will likely participate in some kind of therapy while in the hospital, such as:
Physical therapy

Occupational therapy

Speech therapy

A mix of all three
Over the course of the program, your loved one's therapist(s) will develop a plan of care that gives prescriptive guidance as to what your loved one needs in terms of future services and medical equipment. Medical equipment that helps carry out activities of daily living, such as bathing, walking, or eating are called durable medical equipment (DME).
Once medical professionals write the discharge plan, the next step is obtaining necessary DME for your loved one. Some of the more common DME include:
Walkers

Wheelchairs

Grab bars

Shower stools

Modified utensils
Many different programs such as Medicare or private insurance can help you purchase these items. Your hospital case worker should assist you in finding the necessary equipment to allow your loved one to transition to an age-in-place scenario.
Secure Services
Your loved one's physician should make all necessary specialist referrals prior to discharge. Specialists can include other doctors and therapists that can help your loved one age in place without a return trip to the emergency room.
Services don't have to be medical in nature. They also include meals, shopping, housekeeping, and transportation. One important but sometimes overlooked service is live-in home care.
Provide a Safety Net
There's a saying: "The best laid plans of mice and men often go awry." Your loved one can have all the right equipment and the best continuing medical care, but if there's no one there to support them as the age in place, chances are they will end up back in the hospital. That's why establishing a safety net is an important part of the discharge process.
Many seniors need live-in home care, especially after trauma or a major surgery. Senior Helpers offers transitional care services in Chesterfield County and can assist you with setting up the personalized care that your loved one needs. Contact us today and let us assist your loved one in a smooth transition from hospital to home.