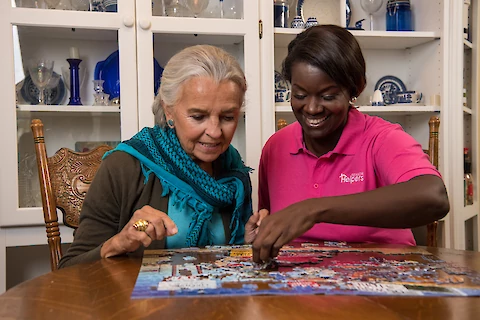 A Day in the Life of a Caregiver
What is a caregiver? What do they do? These are common questions for many who are unfamiliar with home care services and could even have some experience as a caregiver themselves. A caregiver is simply a person who provides care for another. It could be a family member or paid professional assisting a client or loved one. There are over 43.5 million Americans who are caregivers for family or loved ones (OncoLink Team, 2019). So what does a day in the life of a caregiver look like?
Schedule
A caregiver usually commutes to the client's home or meets them out in the community. They may have a living arrangement such as a family caregiver. The caregiver's shift may depend on how much assistance the client needs for the day and their care plan. Some people need 24-hour care where others need only a few hours a week.
Tasks
After arriving, a caregiver will start their tasks based on the schedule for the day. This could include activities of daily living (ADLs) such as grooming, eating, walking, bathing, and other self-care tasks. Instrumental daily activities (IADLs) might also be included which are complex organizational tasks such as managing finances, phone calls, mail, medications, shopping, and cleaning. The assistance level of a caregiver depends on the client's abilities to safely complete a task. For example, the client might just need verbal queues or supervision while they prepare a meal. A caregiver might also assist in fun hobbies and games that a client enjoys. Lastly, transportation to appointments may be needed such as driving a client to see their doctor or get a haircut.
Relationships
Whether it's a paid professional, daughter, brother, or friend, at the end of the day we are all human. Caregivers will get to know who they are assisting and become a familiar face. These unique relationships are developed through trust and respect. Although it may not always be easy, being a caregiver is very rewarding. A caregiver has real purpose and pride in their work by helping others and building relationships. That is what makes a day in the life of a caregiver so special. 
Learn more
https://www.seniorhelpers.com/tx/san-antonio-north/services/companion-care/
Sources
OncoLink Team. "Did You Know...Facts About Caregivers?" OncoLink, 4 Dec. 2019,
www.oncolink.org/support/caregivers/resources/did-you-know-facts-about-caregivers.