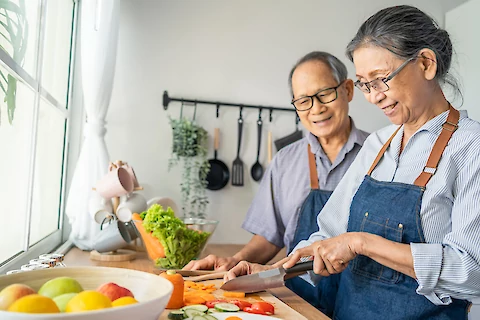 When it comes to helping older adults and senior parents manage daily meal planning, the task can seem daunting. Whether you are just starting or trying again after a lapse in healthy eating habits, having resources available to make the process easier is key. 
At Senior Helpers Ellis County, we understand this challenge firsthand and want to equip family members of seniors with helpful tips for making healthy meal planning successful. Keep reading for four simple tips for creating sustainably healthy meals for long-term success.
Establish and Stick to a Budget
Creating and staying within a budget is essential for successful meal planning. This doesn't mean you have to sacrifice nutritious ingredients or flavor. Still, being mindful of how much you spend on food each month can help ensure that your dollars stretch further. Start by looking into available programs such as SNAP/Food Stamps, WIC (Women Infants & Children), etc., that can help lower monthly grocery costs.  
Use Delivery Services
Let's face it, grocery stores can be overwhelming spaces. A great way to stay on track and avoid getting overwhelmed is to use delivery services when possible. When ordering online or signing up for a meal kit service, you will have access to nutritional information and pre-measured ingredients already tailored to the recipes provided. 
For added convenience, there are also seniors-only supermarket delivery options available in Ellis County such as Smith's Food & Drug Centers and Safeway Groceries. 
Enlist Family Help
For some seniors, cooking can seem like a daunting task. Additionally, having someone to grocery shop for them may not be an option for various reasons. Fortunately, family members can help senior parents make meal planning more manageable and enjoyable by enlisting the help of other family members, friends, or neighbors in picking up items from the store or even helping with the actual cooking. You could also look into classes that teach simple healthy recipes that require minimal effort or equipment. 
Visit Local Farmers' Markets
Ellis County is home to many farmer's markets that offer fresh and locally grown produce. Shopping at these outdoor marketplaces can help save money while providing a fun and interactive experience for seniors. 
Seniors may also opt to take part in a Community Supported Agriculture (CSA) program, which typically provides members with weekly "shares" of the farm's seasonal bounty. This is perfect for those keen on eating seasonally throughout the year. 
Senior Helpers Can Help With Healthy Meal Planning
Meal planning can seem daunting, but it doesn't have to be a burden. Following these four tips will help ensure that you plan meals that are easy and affordable while always keeping nutrition in mind. Remember, the most important thing is finding the right balance between cost-effectiveness and overall health benefits.
If you or your senior loved one needs some support with healthy meal planning, contact Senior Helpers today. We provide premium senior care for those in the Waxahachie, Ennis, Mansfield, Midlothian, Alvarado, and Ellis County areas.