W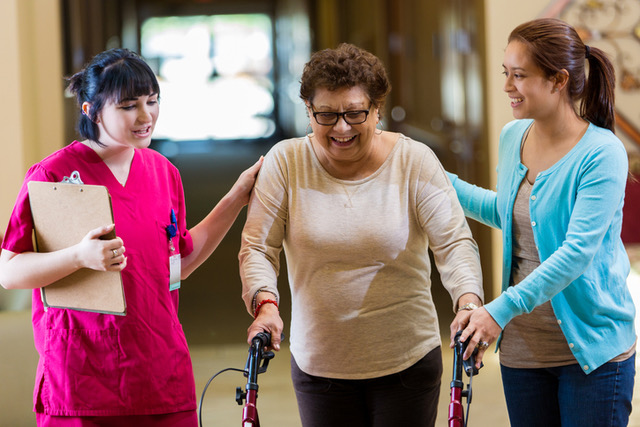 hen your loved one moves into an assisted living facility or senior residence, you want to make sure they are still receiving the individualized attention they deserve. That's why our senior concierge services are designed to allow you and your loved one to determine exactly which services will best serve your needs. Our concierge services are tailored to work in tandem with the already-in-place amenities of senior living communities to ensure that your loved one has truly comprehensive care. Our enthusiastic and dependable caregivers are assigned to patients according to what we feel will be the best fit.
What Does Senior Concierge Service Entail?
Here is a list of services you can expect from our concierge caregiving package. We encourage patients to select a mix of services according to their specific needs.
Move-in Service
If your loved one is moving into an assisted living facility, our caregivers can help with the move-in process. This includes unpacking and helping your loved one get acclimated to their new space.
Post-Medical Care
After a medical procedure, there is always a risk of readmission if proper care isn't taken in recovery. Our caregivers can help reduce the risk of readmission by providing round-the-clock assistance, or daily check-ins, depending on the level of need.
Companion Care
This includes assistance with daily activities like shopping, meal preparation, and transportation. Social interaction is essential as we get older, and our active lifestyle tends to slow down, so companion care can really go a long way toward improving your loved one's wellbeing.
Personal Care
Another important aspect of concierge care is personal care, or aid with non-medical needs and daily activities. This includes assistance with getting around the house, doing laundry, reminders to take medications, and maintain personal hygiene.
Wait List Support
For seniors who may be on a wait list to get into a senior care community, our caregivers can offer in-home care. This gives families peace of mind, knowing that your loved one is still safe in their home during this waiting period.
Alzheimer's & Dementia Care
Our caregivers are trained to create customized plans for residents with Alzheimer's and dementia, designed to focus on what they can do, not what they can't, through our award-winning Senior Gems® program.
What Makes Senior Concierge Services Different?
The main difference between our senior concierge services and other in-home care providers is that we are not limited by location. Our concierge care takes our valued services outside the household to people in senior living communities or hospitals. We are committed to providing service and assistance to seniors wherever they might live, whether at home or in a variety of assisted and continuing care retirement communities.
Community Support
While we specialize in offering care for residents on an individual basis, Senior Helpers also offers senior concierge services to entire retirement communities. Assisted, independent, and continuing care retirement communities can partner with us to provide some of our concierge care services to each resident as added amenities. If you are the owner or manager of an assisted, independent, or continuing care retirement community, get in touch with us to learn how we can benefit your residents.
To learn more about our senior concierge services and how we can create a customized care plan for your loved one, please contact us today.