While it's human nature to try to care for your loved ones yourself, there comes a time when that simply isn't possible or productive. Whether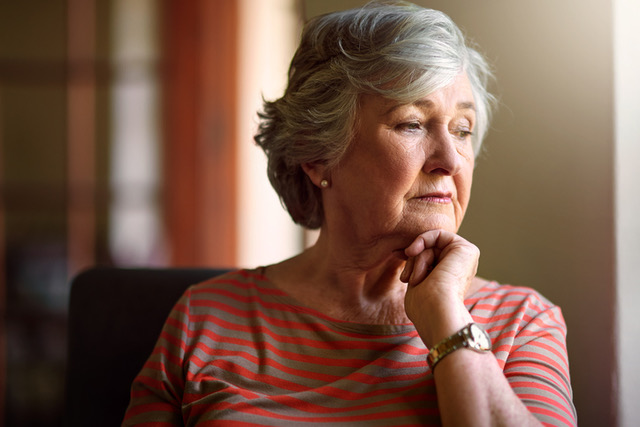 they have specific dietary restrictions, are becoming increasingly forgetful due to a cognitive illness, or are susceptible to falling or other physical injury, your loved one might require care and attention beyond what you can provide them. In-home senior care can help address your senior's health concerns and give you peace of mind that their needs are being met.
Alzheimer's and Dementia
Alzheimer's is one of the most devastating diseases affecting seniors, with over 5.5 million Americans suffering in 2017. The symptoms of Alzheimer's and dementia can be debilitating and make it absolutely necessary for your loved one to seek in-home senior care.
At Senior Helpers, our caregivers are trained to improve the quality of life for Alzheimer's and dementia clients and make their wellbeing a priority. Every client has specific needs, and we specialize in creating customized Alzheimer's care programs designed to highlight seniors' strengths, rather than focus on their weaknesses.
Falling
Falling is actually one of the most dangerous incidents a senior can face. Every year, 2.5 million people over 65 are treated in ERs for falls. Our bones become more brittle as we age, so an insignificant fall at 23 could prove life-threatening at 73. Seniors are less likely to safely break their fall and are therefore at greater risk for head damage. The American Journal of Emergency Medicine found that over 1/3 of seniors who visit the ER either revisit or die within the year. As a caregiver, it can be difficult to keep tabs on your loved one at all times and make sure they're safe. Our trained, professional caregivers know how to create a safe environment and keep a watchful eye on clients.
Heart Disease
According to the CDC, heart disease is the #1 killer of adults over 65, causing nearly 500,000 deaths in 2014. The elderly are at greater risk for high blood pressure and cholesterol, which both increase your chances of heart disease. Lifestyle changes should be implemented to reduce the risk of heart disease, and caregivers are trained to implement these changes. They will make sure your loved one gets regular rest, eats a healthy, balanced diet, and exercises as much as possible.
Are You Overwhelmed?
While caregiving might not be your full-time job, it can sure feel like it. Taking care of an elderly loved one can be daunting, especially as many caregivers lack the specific training and expertise to be truly equipped for this role. We know you want your loved one to be comfortable and happy, but you can't forget to look after your own happiness too. A drained, fatigued caregiver is ultimately a disservice to your loved one's wellbeing. With in-home senior care, however, getting your loved one the proper care doesn't have to come at the expense of taking care of yourself. Our caregivers can relieve your burden, help alleviate your stress, and give you peace of mind.
If it's time to enlist in in-home senior care to address your loved one's needs, reach out to us today to learn about our wide range of services.